On July 5, every mailbox in Middleburg received a postcard. The postcard announced that, after 12 years as mayor, Betsy Davis will not seek re-election in 2018. It also declared that Vincent Bataoel, the chairman of the town's Economic Development Advisory Committee, would be the first candidate for the post.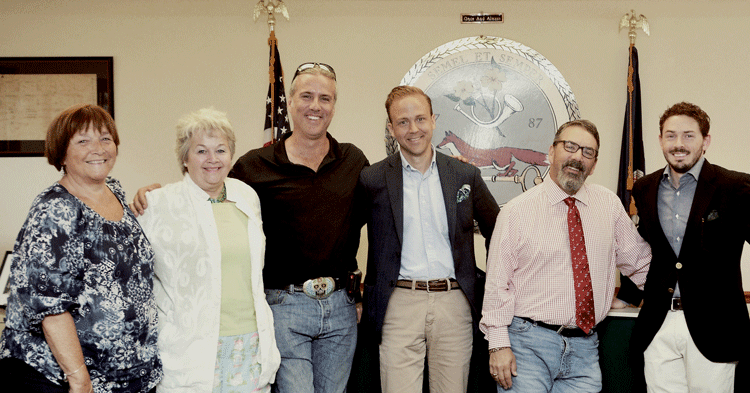 Along with the postcard, Vincent released a campaign video and a website outlining his proposal for mayor. Although the election is not until May 1, 2018, he said he wants to get a "fresh start."
"10 months seems like a long time, but it'll fly by," he said. "We've got to get started."
Vincent, 35, is a local business owner. He and his wife, Nelina, have lived here since 2010, and both have been active members of the community. In 2014, Vincent was appointed by the mayor and Town Council as chairman of the town's EDAC, and is in his second term in that position. Earlier in the year, Bataoel recruited the King Street Oyster Bar, which will be opening soon.
The older of two siblings, Vincent grew up on the South Side of Chicago. "Mom tended bar. Dad worked in warehouses at UPS for 30 years. My sister and I both learned to work really hard."
Vincent received his master's in policy studies from Missouri State University. He was a visiting scholar at National Defense University at Fort McNair in D.C., a scholar at the Potomac Institute in Arlington, and is the co-founder of a small business that has been around since 2007. The business, Above Green, provides LEED Certification Consulting services, and currently has 8 employees in an office on the east end of town.
He believes that his tenure as a small business owner would make him a good fit for the responsibilities of running a small town with 12 full-time employees. Mayor Davis was also involved in business as office manager of her family-owned small business, The Fun Shop.
Vincent's priorities include keeping Middleburg small and charming, recruiting local businesses that are good for the residents, and realizing the economic potential of the horse and wine community. He anticipates that, in 20 years, Middleburg "looks better, not bigger."
"In the 1800s, the population of Middleburg was 600. Today it's 800, and I love it. That's why I live here. I want to maintain all of the charm and bring good quality local businesses back to our downtown. Middleburg should go back to being a local hub for all of West Loudoun."
Vincent's campaign for mayor can be found online at: www.middleburg2018.com. He can be contacted at: vincent@middleburg.com.