PHOTOGRAPHER LITERALLY DIGS UP DIRT FOR CLIENTS
Exhibit to Feature Emotive Work of Portrait & Documentary Photographer, Sharon Hallman
Hamilton, VA. 10/13/17—For photographer, Sharon Hallman the environment and the subject are ever-changing and ever-connected—each with fleeting magic moments often missed in today's hectic lifestyles. Known for her ability to capture ordinary moments and transform them into extraordinary lifetime memories, Hallman accomplishes this not only through her photography, but also by literally digging up dirt and other nature elements from photo shoots and preserving them in glass capsule keepsakes for her clients. "I've collected everything from soil where my subjects stood, to water from a pond where one of my subjects saw her beautiful reflection for the first time, and recently a snip of a horse's mane from a portrait session of a girl and her beloved horse," says Hallman. "I love to think of the way that each item holds pieces of DNA from the person and who they are in that moment."
Hallman's debut exhibit titled "I Am. Evolution of a Woman's Soul," will feature portraits of female subjects from birth through death that illustrate her distinctive ability to capture the light that shines within.
"Sharon has an incredible ability to pull out the inner spirit in people," says client, Lauren Pacione. "When you see her images they aren't just of a person, it's of their dreams and potential—the dancer, the musician, the astronaut. It's as if she sees us through our child selves with wonder and infinite awe."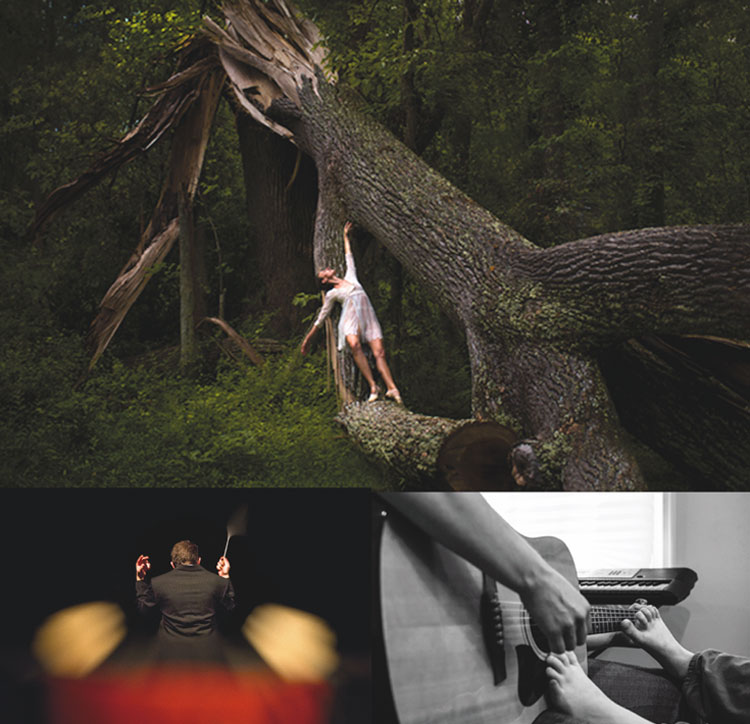 Hallman's ability to see the beauty in a person's soul and not just the physicality of a body has inspired her to photograph a wide variety of subjects—from painful yet beautiful moments with hospice patients to moments that run the emotional gamut with kids and adults facing various life challenges at the music therapy organization "A Place To Be."
While her upcoming exhibit focuses on images documenting the Evolution of a Woman, the exhibit also includes magical moments from her work as A Place To Be's resident Photographer.
"A real artist can capture a moment that in everyday life can zip by you without noticing. Sharon has the ability to capture that moment in an enchanted yet realistic fashion that makes you see humans, nature and yourself," says Tom Sweitzer, Executive Director of A Place to Be. A Place to Be Co-founder, Kim Tapper, is among subjects featured in Hallman's debut exhibit.
The portrait of Tapper's graceful dance pose against a breathtakingly large fallen tree embodies the essence of Hallman's unique vision illustrating the beauty of all things that surround us. "Sharon sees past the surface and captures the heart, the essence of a moment. Her work is infused with her grace, life experiences, and constant curiosity," says Tapper.
In addition to Hallman's photography collection, the exhibit will include natural elements from her shoots, an actual preserved placenta, and handmade dishtowel created by a woman born over a century ago, who was also one of the inspirations behind the theme for Hallman's exhibit. Images of inner ballerinas, equestrians, heart-centered entrepreneurs, educators and women across every generation will be unveiled Saturday, October 28th from 5-8pm.
Admission is free and voluntary donations will help support The Ripple Fund—Hallman's project to share professional images for families and start-up non profit organizations who otherwise could not afford the cost. "I Am. Evolution of a Woman"
Exhibit is being hosted by A Place To Be Music Therapy Center: 8 North Jay Street, Middleburg, VA. Saturday, October 28 from 5-8pm. Parking is available behind the building or on the street.
Event Page https://goo.gl/zTVNcX