Story and photo by Kerry Phelps Dale
Look up Cindy Pearson on the Middleburg town office website and you'll find the profile picture of her in a witch costume and make up. It's an impressive depiction of the Halloween witch, one that she has honed over the years to near perfection.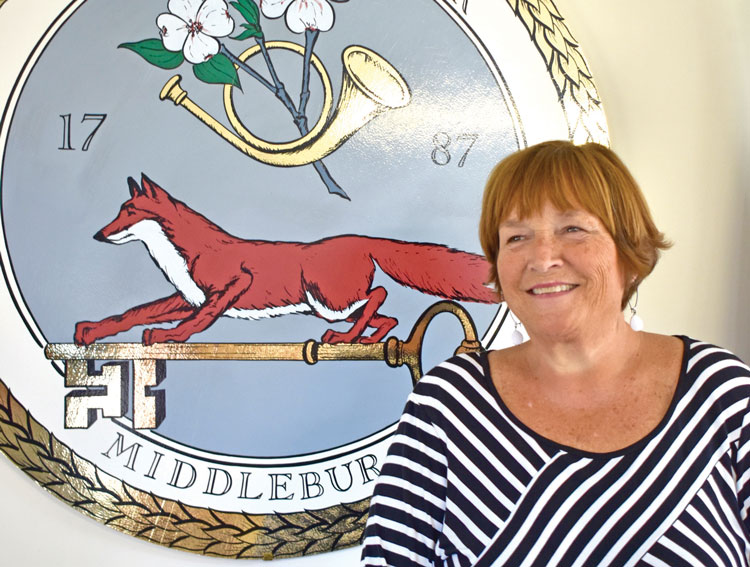 "I am the witch of Middleburg," she said of her annual Halloween garb with all the authority of someone handing you their business card.
Cindy has often taken her costumes, usually, but not always a witch, on the road, too. When her daughter Jill played Volleyball at George Mason University, Cindy sometimes showed up to the games in full regalia. "Yes, it embarrassed her and I loved it."
Come the end of September, Cindy will have more time to visit her grown children, in and out of costume, when she will retire from her 11-year tenure with the Middleburg Town Office as Economic Development Coordinator.
"I'm sure I'll get tired of me in a week, though," she said about her impending retirement. "My plans are to take care of me, go to the beach and catch up with friends. I can't wait."
Being born and raised in Middleburg made Cindy a natural for her job with the town, possessing the invaluable historical knowledge from witnessing the many changes in the community – businesses come and gone, children grown and left, an influx of new residents from urban areas. The longtime Middleburg resident welcomes the town's transformations brought about by changes and growth. "I don't really look back and miss the way things were," she said. "I enjoy change, the newness of things and the new energy."
Cindy attended Middleburg Elementary and Loudoun County High School and frequented the Middleburg Community Center as a teenager. "It was a place to hang out, it's a shame the children in town don't have that as an option now."
Her first job out of high school was with the Middleburg accounting firm Yount, Hyde, Barbour, PC., and from there Cindy went to work at The Hill School for 18 years before going to the town office. Over the years the Methodist Church, Windy Hill Foundation and the Middleburg Community Center have all been recipients of Cindy's volunteer efforts. "When people ask me where I went to college, I tell them I got my degree from the University of Middleburg."
Two of Cindy's children have stayed close to home. Son Jamie has worked for Middleburg Bank for 20 years, since he was 16 years old, and is employed in their office in Eastern Loudoun. Jill is a teacher in Fairfax County and the mother of one of Cindy's three grandchildren. Christie, Cindy's oldest daughter is a nurse and lives half a continent away in Colorado with the other two grandchildren.
Though she plans to travel to see more of her grandchildren and friends in her retirement, as far as what's first on Cindy's retirement agenda? "Nothing," she said. "Coffee in the morning on my deck when I don't have to rush off to work. I'll just see what comes from that." ML