Story and photo by Kerry Phelps Dale
If she knows you, and chances are she does, Liz Turnure will greet you enthusiastically by name as soon as you pass into the lobby of the Middleburg Bank.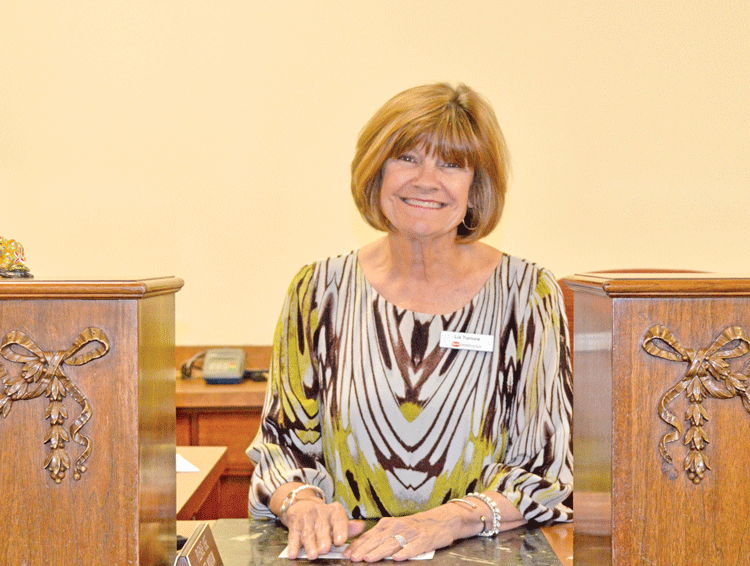 Her warmth and engaging personality are not lost on the bank's customers. Some wait patiently to be served by her and no one else, as she asks them how their day is going, inquires about their health and family or remarks on their new haircut. "Nobody at home even noticed," replied the smiling customer.
"Why in the world would the bank put the life of the party in the window?" shouted a regular customer when he saw Liz working the drive-thru window, not her usual domain.
After staying at home to raise her four now-grown children, Liz decided to take a job simply, she thought, to pay the family's exorbitant annual health care premiums. But Liz soon discovered how much she had missed seeing old friends and acquaintances from years prior, before children, when the couple's social life was anchored in the Middleburg community, and that "talking to people every day is really fun. I'm a real talker," she said.
"I love being in Middleburg — people will read my nametag and most of them recognize my name from Bill being an architect in town for so long," Liz said. Her husband Bill is the owner of Turnure Architecture, formed in 1994, and a Middleburg architect for 37 years.
Before having children, Liz taught elementary school in Rappahannock and Fauquier counties and at Highland School in Warrenton where the Turnures have lived since 1987 before the birth of their first child.
"I absolutely loved being a teacher and to this day some of my favorite people are former students and teachers I worked with," said Liz.
Years of being a teacher schooled Liz in the nuances of bringing out the best in others and the power of a friendly face. "I like to make people feel good about themselves," said Liz. "Sometimes it's just a kind word." ML