When choosing your next home, it makes sense to want the perfect combination of location, design, and price. Now more than ever before, we are also seeking out homes that provide us with community amenities that make our lives more convenient. M/I Homes at Willowsford offers you an unprecedented opportunity to have everything you're looking for with its newest collection of superior single family designs.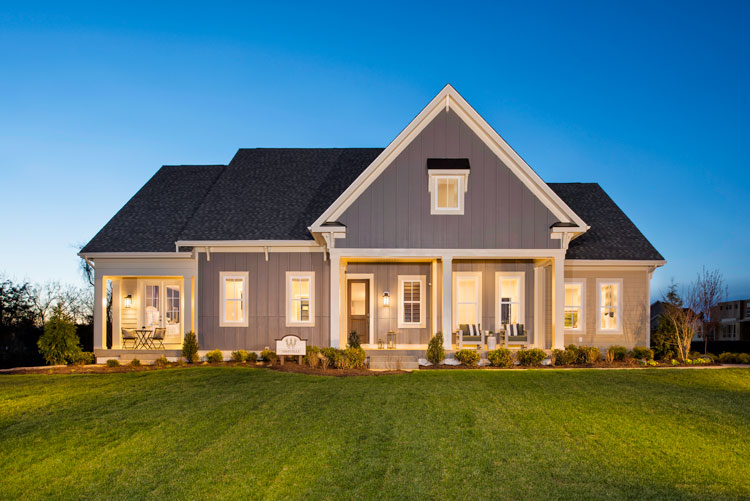 Award-winning M/I Homes offers three unique floor plans in The Grant at Willowsford: The Ashville, The Charlotte and The Barret. Innovative ideas paired with an emphasis on main level living give a unique flair to these homes. Each design has a wide array of optional additions, like a loft or finished basement, that allow for personalization to fit your needs. From unique detailing to green living features, every M/I home at The Grant is more than just a place you live.
Unlike any other offering in Willowsford, M/I's homesites in The Grant are completely maintenance-free. Whether you are sick of mowing the lawn in the summer, clearing snow in the winter or laying mulch in the spring, the lifestyle M/I Homes offers at Willowsford takes frustration out of the equation.
You'll experience this freedom in the only Top 50 U.S. Master Planned Community on the East Coast. Willowsford was born from a pledge to honor the conservation of the land, and a goal of a more engaged, quality lifestyle for its homeowners. Its revolutionary approach has earned it the distinction of being a three-time Community of the Year recipient. And M/I Homes is building in one of Willowsford's most sought-after villages: The Grant at Willowsford.
Sustainable living and preservation are at the core of The Grant at Willowsford. M/I's homes are within walking distance of a planned Farm Stand that will sell part of what is grown at the Willowsford Farm. Homeowners can take part in growing some of the food that is sold there or at Willowsford's Farmer's Markets, or even try raising livestock such as chickens and goats over at the farm. Throughout The Grant are wide open areas of untouched nature, walking trails, and even a conservancy camp site that all contribute to the natural beauty of the surrounding landscape. And because they're arranged in the only enclave-style courtyards in Willowsford, these homes create a sense of community and privacy you won't find anywhere else.
Residents can also take advantage of the amenities that Willowsford offers to all of the villages. A variety of activities accommodate all kinds of interests. With farming an integral part of the community, agriculture and residents come together at the Willowsford Kitchen in Sycamore House, which offers a culinary program with events and options for all ages. From cooking classes to guest chef demonstrations, this is an amenity that you won't get at too many other communities. If cooking isn't your forte then you can always try out the group fitness classes at The Lodge at Willow Lake, bike races along the community trails, or join in on one of their many events like an outdoor concert or movie night.
Willowsford is truly a must-see community, and M/I Homes takes their holistic approach to living to the next level. Visit today – we're located in prestigious Loudoun County, less than an hour from Washington, D.C. and just a drive away from dining, shopping and entertainment.
Enjoy more quality & superior living in an M/I Home at Willowsford.
(301) 720-9941
41771 Ashmeadow Court, Ashburn, VA 20148
Open Daily: Mon. 2pm-6pm, Tues.-Sun, 11am-6pm
http://willowsford.com/villages/the-grant/