By Callie Broaddus
Now that I have your attention, I need a few sentences to steer us back on course.
Do you remember the last time you turned on the news, checked Facebook, refreshed Twitter or picked up the paper, and you didn't see anything to make you feel angry, bewildered or like you have less in common with your community than you thought? It has been awhile for me.
That is why, when I sat down to write an article about conservation easements, the poetic lines about the beauty of horse country's verdant landscape — with which I intended to lead us off — were supplanted by the two big words above. Because it is important to recognize that the Middleburg area's astounding success at land preservation cannot be attributed to one political party or another. It is an effort that has spanned party lines for 50 years, driven by a common belief that this land is beautiful and is worthy of protection from the suburban sprawl that has rolled toward us, blanketing many nearby hills over the last several decades.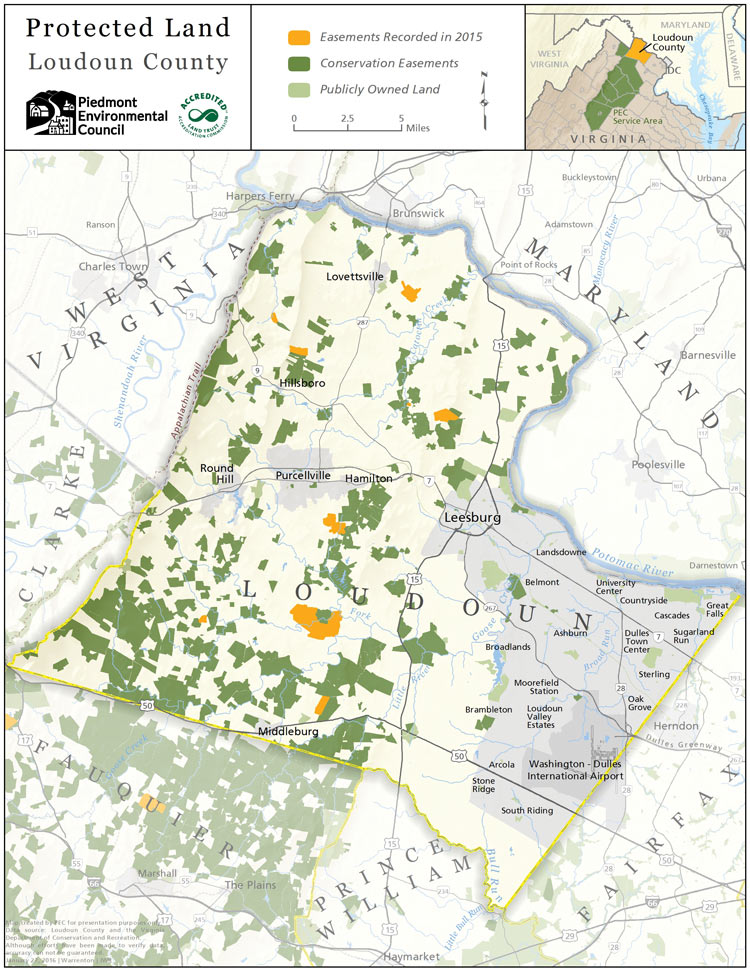 Middleburg's rich history of preservation is the success story of a generous and passionate community. Unlike most current stories on social media and the news outlets, Middleburg has a story that celebrates what we have in common. Regardless of party affiliation, and over half a century, landowners throughout Loudoun and Fauquier counties have sacrificed development rights in order to safeguard beautiful viewsheds and healthy ecosystems, as well as the active lifestyles of hunters, hikers, bird-watchers, stargazers, foxhunters, trail riders and all lovers of open space for generations to come.
"We wanted to be part of that larger effort. We're very proud that our easement is one of hundreds of easements in this area that, knitted together, truly protect this part of the country." -Peter B. Schwartz
Peter B. Schwartz and Anna M. Moser made the decision to protect their Delaplane home, Tupelo Farm. "This isn't about our individual easement; this is about being part of the preservation of the entire area of the northern Piedmont — a very precious agricultural area that is beautiful and historic, and worthy of protection from the onslaught of sprawling growth," said Schwartz.
"We wanted to be part of that larger effort. We're very proud that our easement is one of hundreds of easements in this area that, knitted together, truly protect this part of the country."
To date, well over 100,000 acres of Loudoun and Fauquier land comprise more than 700 conservation easements. The bulk of these are held by the Virginia Outdoors Foundation, which opened in 1966 and holds a greater number of conservation easements than any other land trust in the country. The language in these easements is varied based on existing land use, but the goal of each is to ensure the protection and stewardship of open space lands in perpetuity.
When the Virginia Land Conservation Incentives Act of 1999 was signed, horse country saw an immediate uptick in protected lands. A land donor could then write off up to $100,000 per year for five years from his or her state income tax.
Starting in 2001, donors were also allowed to buy, sell and transfer conservation tax credits, meaning that it wasn't only those with large incomes who could now afford to take full advantage of the program. As the tax incentives have continued to grow, so have the economic benefits to the community.
The protection of so much countryside, combined with the growth of nearby metropolitan areas, contributed to an increase in property values. John Coles, an agent for Thomas and Talbot Real Estate, explained, "Where you have a high concentration of easements, all of a sudden, that's where everyone wants to be. So, it's driven the prices up dramatically, really.
"If you go 5–10 miles out, where there aren't many easements, the land prices are a lot cheaper." Despite the inherent restrictions that an easement places on a property, Coles has had little difficulty finding buyers who are educated about easements and ready to be stewards of the land. "Right in this area where there are a lot of easements, they sell."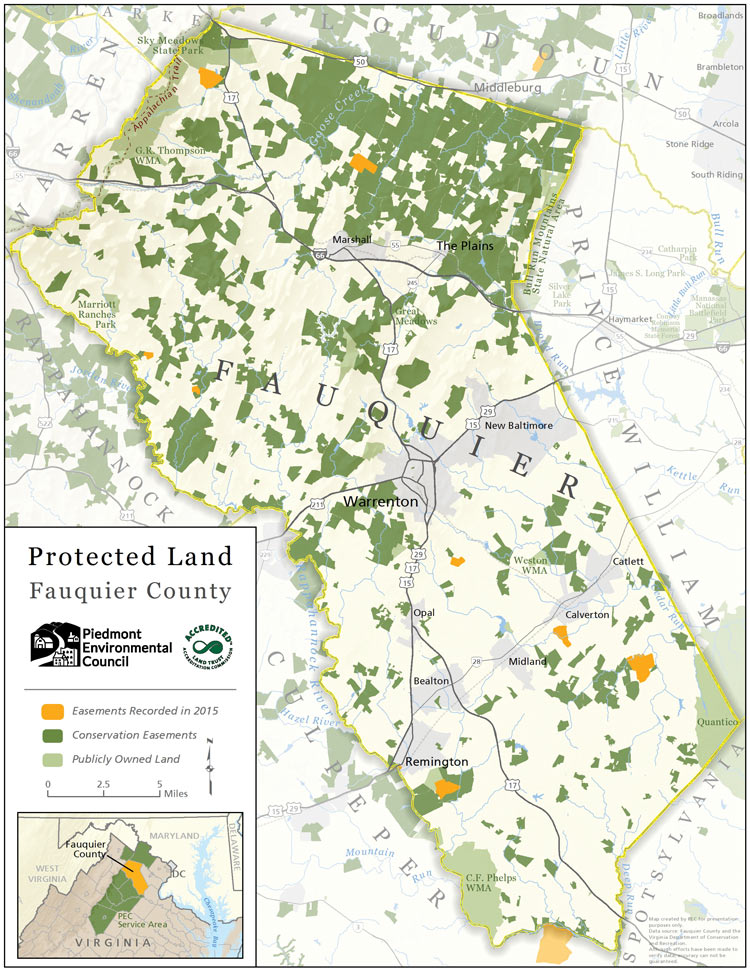 Early last year, a bipartisan effort in Washington, D.C., passed the Conservation Easement Incentive Act, which was swiftly signed into law. The now permanent federal income tax deductions were also greatly expanded. In addition to the Virginia income tax deductions, a land donor can also take a federal tax deduction of up to 50 percent of their adjusted gross income for up to 15 years, and qualified farmers and ranchers can deduct up to 100 percent of their adjusted gross income for the same time period.
Middleburg residents and the surrounding communities have demonstrated that when individual landowners encourage each other to protect private lands, the result is a model for long-term economic, cultural and environmental success. The economic incentives to participate in the effort have never been greater, and I, for one, have never been so happy to applaud our local history of bipartisan accomplishment. ML
Maps show protected lands in Loudoun and Fauquier counties as of 2015. Maps courtesy of the Piedmont Environmental Council.
---
If you are interested in finding out if your land is eligible for an easement, the Land Trust of Virginia, Piedmont Environmental Council and Virginia Outdoors Foundation are all accredited by the Land Trust Accreditation Commission, and each organization has extensive online resources to help educate prospective donors.
Land Trust of Virginia
5 N. Hamilton St.
Middleburg, VA 20117
540-687-8441 | landtrustva.org
Piedmont Environmental Council
45 Horner St.
Warrenton, VA 20186
540-347-2334 | pecva.org
Virginia Outdoors Foundation
39 Garrett St., Ste. 200
Warrenton, VA 20186
540-347-7727
virginiaoutdoorsfoundation.org