Vintage Magnolia, a locally owned and operated store specializing in antiques, home décor, gifts and reclaimed/custom-made furniture expanded to a new location in the heart of Purcellville, at 600 East Main Street on Saturday, September 30th, 2017. Purcellville Mayor Fraser and members of the Town Council cut the ribbon for the opening of the doors at 10 a.m.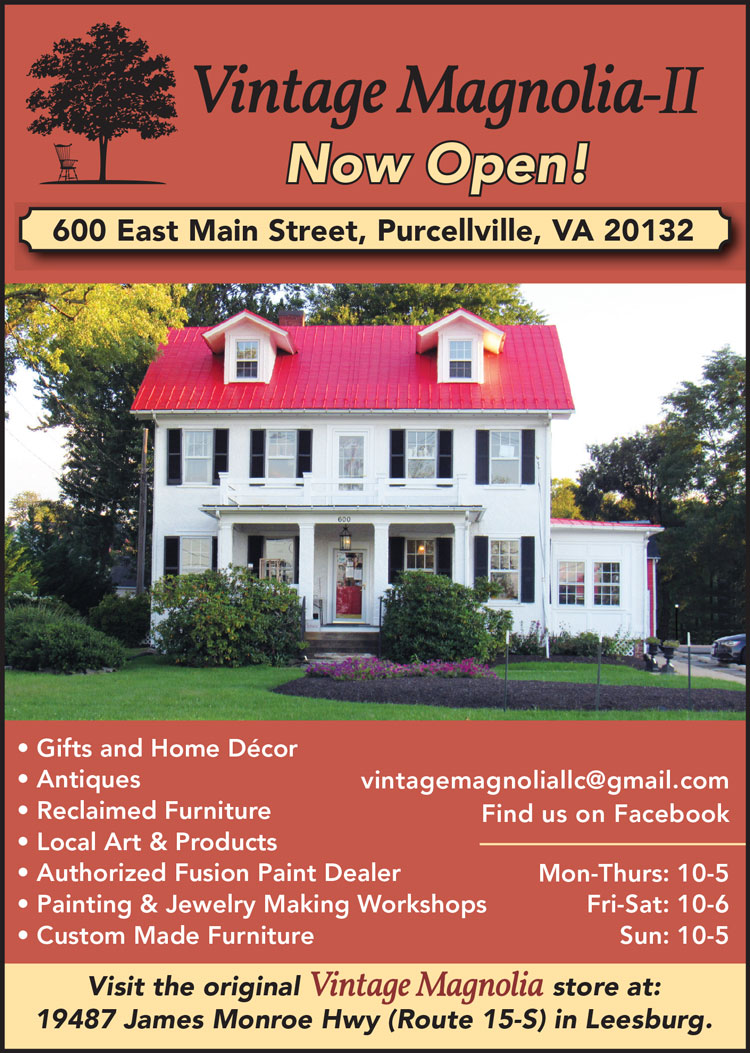 Owner Valerie Sikora opened the first location in the historic Piedmont Motel building on Route 15 (3 miles west of downtown Leesburg near the intersection of Harmony Church Road. After renovating the 10,000 sq. ft. building Ms. Sikora filled the space with 79 vendors where shoppers are guaranteed to find something unique to add to their home. Not only will you find quality antiques and home décor, but also unique gifts such as local art, upcycled furniture, wine and hunt country accessories. Also available are everything you would need for your own DYI project (old doors, windows, shutters, etc.). Vintage Magnolia is also an authorized Fusion Mineral Paint dealer. Fusion is an all in one paint with zero VOC's offered in over 50 different colors.
At the heart of Vintage Magnolia's stores is the one-of-a-kind collection of reclaimed/custom-made furniture – all made locally. Standard designs include farm tables, pub tables, coffee tables, bars, hall trees and bookcases. Custom orders are also available to meet any need for both residential and commercial customers.
The Purcellville location, Vintage Magnolia II is mirrored after the original store, with a few new additions, such as a country store section where you will find locally made food products; and expanded gift selections.
Vintage Magnolia II will also be offering painting, and jewelry making classes this Fall and hopes to add other craft classes in the near future. Ms. Sikora hopes to bring the community together at Vintage Magnolia II as a place to not only find unique one of kind home décor, and gifts at an affordable price but to also bring groups of people together to learn a new craft.
Vintage Magnolia and Vintage Magnolia II are open 7 days a week:
Sunday-Thursday 10 a.m.-5 p.m. and Friday-Saturday 10 a.m.-6 p.m.