Story and photos by Shonna Call
The last bits of candy corn and pumpkins have disappeared and the first hints of winter weather are upon us. It is the season of candy canes, all-consuming shop-till-you-drop, wrapping gifts, holiday parties and endless entertaining.
Shopping for ideas or actual gifts can be daunting. Contemplating the insanity of the mall? Forget about it.
Online shopping seems fast and easy. Sure, you can get it done in your pajamas from the comfort of your home, but it is a soulless approach to the season that lacks the personal touch and feel of the real shopping experience.
There is no more beautiful, friendly, nostalgic place to spend the day holiday shopping than Middleburg. Everything you are looking for, every item on your list is right downtown.
Start early for your day of holiday hunting and fuel up with Middleburg Common Grounds. Then, starting from the west side of town, you are headed eastbound.
And so it begins. Start checking off the items on your list at Highcliffe Clothiers. Start with the feathered hat. Then, make the tough decision by choosing from a rainbow of bow ties, a fur collar, a silver horse head belt, a gorgeous buttercream waistcoat and a royal blue sport jacket.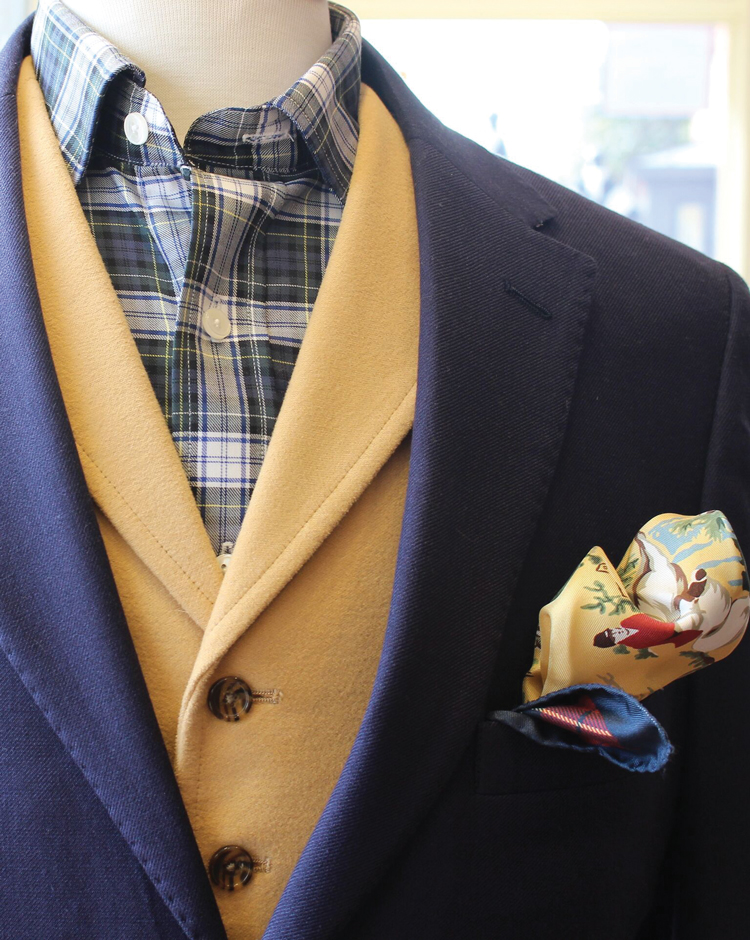 Handsome and ready for anything at Highcliffe Clothiers.
Another local favorite is the Middleburg Antique Emporium with their collections of beautiful things, an eclectic mix. … Perhaps the gilded eagles will catch your eye or something equine in nature.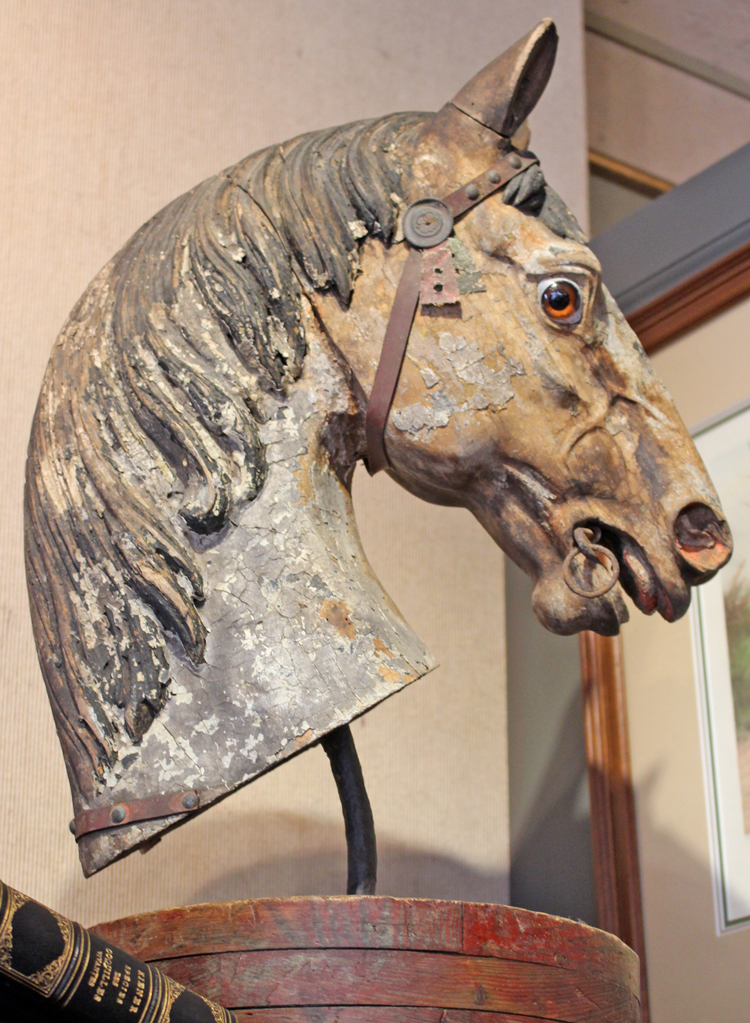 Antique carousel horse head from the Middleburg Antique Emporium.
Next stop is Wylie Wagg for your four-legged friend. Lots of wet weather coats, sweaters and toys to chew up while whiling away the hours … and then there are the treats for our cold-nosed family members. Be careful, don't be fooled! While they look good enough to eat, these holiday cookie treats are for our four-legged friends.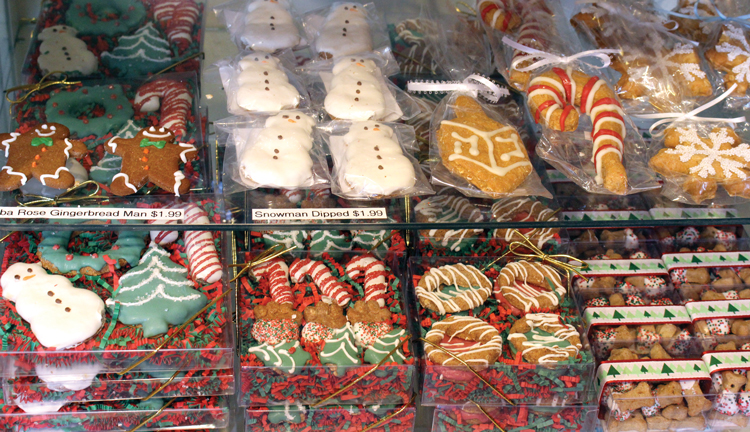 Any dog's holiday delight to naw on from Wylie Wagg.
For the girl on your list, it is a trip to Lou Lou Boutiques. Perhaps you need a dream duffle tote bag or one of many scarves and wraps. There is one for every outfit and more than you can imagine in one place.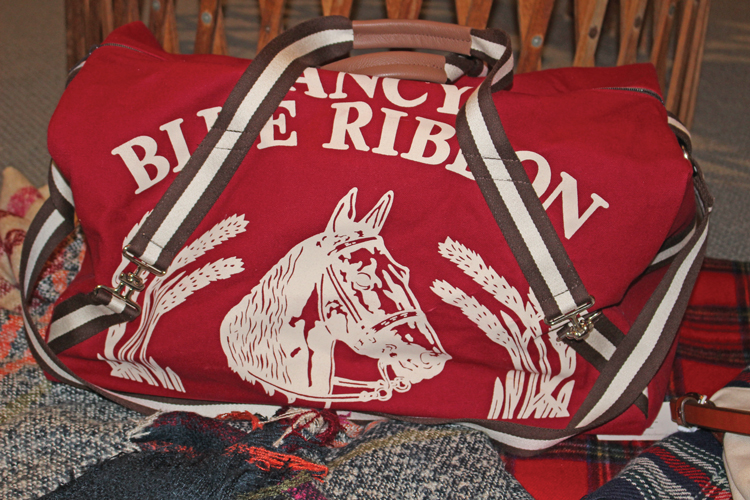 Duffle from Lou Lou Boutiques.
Next door, Tully Rector's boutique is a must-stop shop for their very cool, stylish, hip collections. Are you drawn to the classic beaded cocktail dress or the fur collared coat? How about a comfy, fringed sweater wrap?
The other half of the shop is a treat for the senses where you might discover the coolest stainless steel thermos stocking stuffer. It will hold an entire bottle of wine perfectly!

 Be jeweled in this party dress from Tully Rector.
Now, let's move on to the entertainer's paradise at Crème de la Crème. We all know one of those cooks who never follows the recipe, but always prepares something incredible. There are just so many beautiful things for the home. Check out their nook full of books, stationary and party accouterments and party on.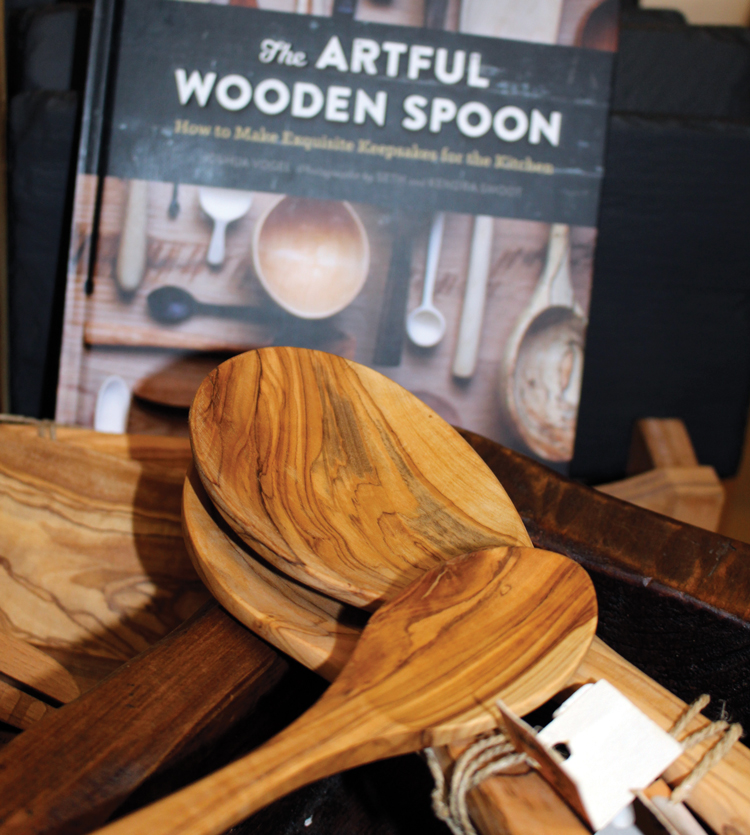 A wooden spoon, every cook's must-have, from Crème de la Crème.
I've made my list and checked it twice. Time to head back west for the rest of the holiday items.
On my way, I'll stop at The Upper Crust, the biggest little bakery in town. It's one of those places you just can't walk past. Generations have grown up on their cookies. The aroma of sweet and spicy, homemade breads, pies and their famous cow puddle cookies is impossible to resist.
Next is the Middleburg Tack Exchange Ltd., a happy place for many locals with its smell of fine English leather saddles, bridles and boots.
How about a gift of a saddle flask for anyone in the hunt field? The vintage flasks are unique and always a favorite. Consider a gentleman's crystal flask with sterling top or a vintage sidesaddle sandwich and flask case. And what huntsman has too many horns?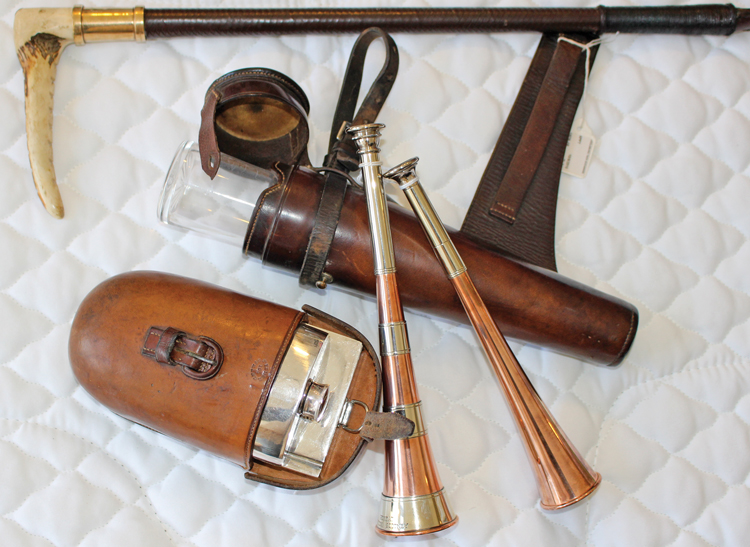 At Middleburg Tack Exchange Ltd.
Finally, on to the last and oldest department store in Middleburg. The Fun Shop is the stop for the final gift on your list. Make a pilgrimage to the ornament wall. It is time to pick out that special tree ornament that will represent this year.
End the day with a partridge for your tree.
Yes, don't forget to buy something for yourself. ML
Where to Shop
Crème de la Crème: Open Monday-Friday 10 a.m.-5:30 p.m., Saturday 10 a.m.-6 p.m. and Sunday 12-5 p.m.; 23 E. Washington St., Middleburg, VA 20117; 540-687-4796
The Fun Shop: Open Monday-Saturday 9:30 a.m.-5 p.m. and Sunday 1-5 p.m.; 115 W. Washington St., Middleburg, VA 20117; 540-687-6590; thefunshop.com
Highcliffe Clothiers: Open Monday-Saturday 10 a.m.-6 p.m. and Sunday 12-5 p.m.; 112 W. Washington St., Ste. 101, Middleburg, VA 20117; 540-687-5633; highcliffeclothiers.com
Lou Lou Boutiques: Open Monday-Saturday 10 a.m.-5:30 p.m. and Sunday 11 a.m.-5:30 p.m.; 9 E. Washington St., Middleburg, VA 20117; 540-687-8702; loulouboutiques.com
Middleburg Antique Emporium: Open Sunday-Saturday 10 a.m.-5 p.m.; 107 W. Washington St., Middleburg, VA 20117; 540-687-8680; middleburgantiqueemporium.com
Middleburg Common Grounds: Open Monday-Friday 6 a.m.-6 p.m., Saturday and Sunday 7 a.m.-6 p.m.; 114 W. Washington St., Middleburg, VA 20117; 540-687-7065; middleburgcommongrounds.com
Middleburg Tack Exchange Ltd.: Open Monday-Saturday 10 a.m.-5 p.m.; 103 W. Federal St., Ste. G, Middleburg, VA 20117; 540-687-6608; middleburgtack.com
Tully Rector: Open Monday-Saturday 10 a.m.-5 p.m.; 13 E. Washington St., Middleburg, VA 20117; 540-687-5858
Upper Crust: Open Monday-Saturday 7:30 a.m.-4 p.m.; 4 N. Pendleton St., Middleburg, VA 20117; 540-687-5666
Wylie Wagg: Open Monday-Saturday 10 a.m.-6 p.m. and Sunday 11 a.m.-5 p.m.; 5 E. Washington St., Middleburg, VA 20117; 540-687-8727; wyliewagg.com