Story and photos by Heidi Baumstark
From milk production to eavesdropping to wine making. In a nutshell, that's the story behind the old barn that is now Vint Hill Craft Winery in Warrenton.

Beginning in the early 1900s, the long barn where the winery and tasting room is today, served as a dairy barn. In June 1942, it transformed into "The Listening Post" (aka Monitoring Station No. 1) where codes were intercepted when it was Vint Hill Farms Station, one of the nation's most covert Army bases. Today, with a 100-barrel capacity, the winery boasts small quantities of a wide range of varietals.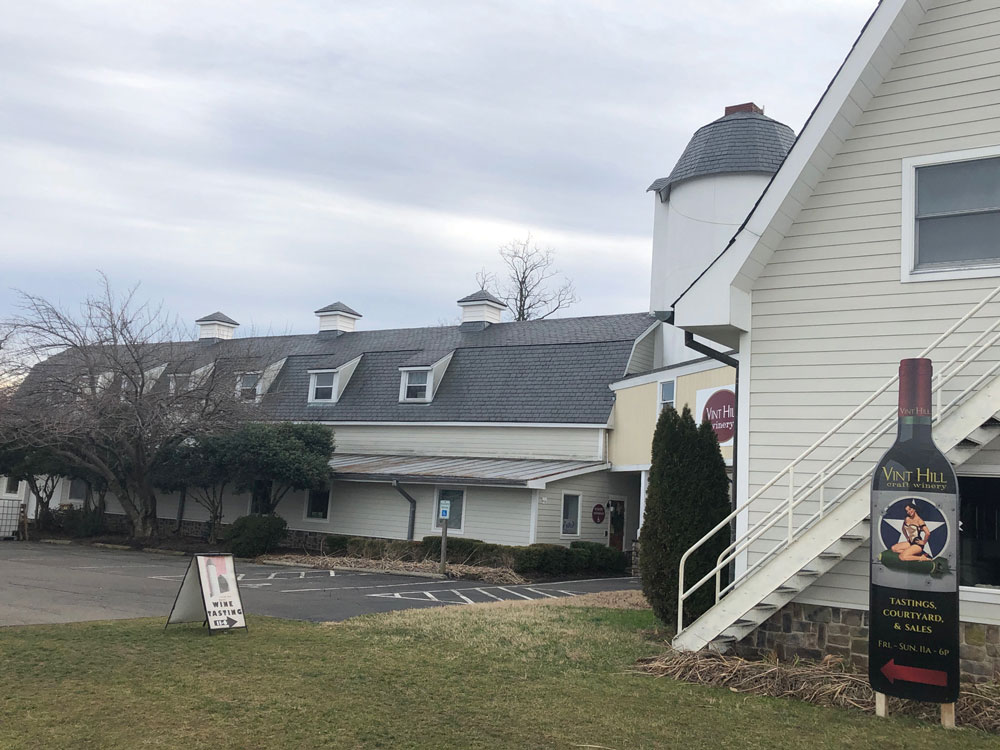 In 2009, Vint Hill Craft Winery opened on the historical site and decided to pour the history into their product. According to Vint Hill Craft Winery Manager John Memoli, the owners wanted to honor the history of the old Army base so they adapted this "theme" as part of their decor. "Our tasting room, which is the old Listening Post, has memorabilia items on loan from the Cold War Museum next door," Memoli said.

Lots of people come in curious about the history. The winery employees are informed on the history and share it with customers. The history has even been incorporated into the wine labels. Pin-up girls are featured on the labels and on posters as a nod to the World War II and the Cold War-era romance with pin-up images. "It's part of the history and a reminder for what our soldiers were fighting for. It's a fun label and eye catching," Memoli shared.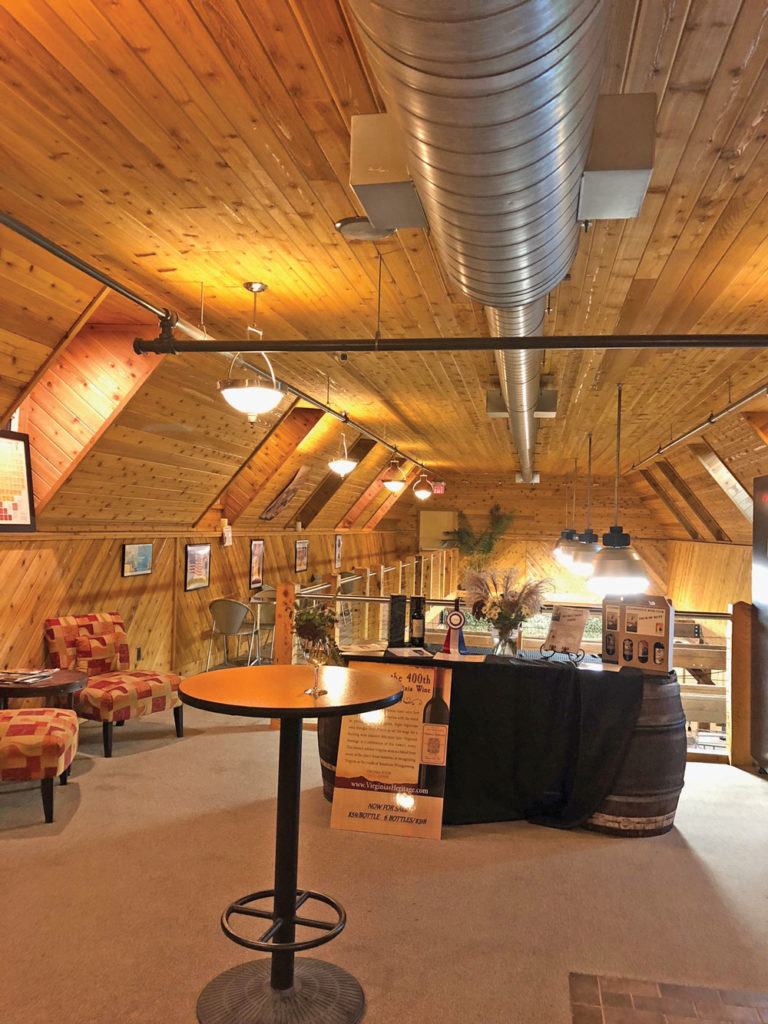 "All of the memorabilia is interesting to look at and it's all just part of the wine tasting experience," he said. Winemaker Brian Smyth joined the team in June 2018 and brought with him experience from multiple regions around the world. With a master's of oenology from the University of Adelaide in South Australia—one of the industry's best schools—he served for three years as head winemaker for Chateau Morrisette in Floyd, Virginia, a third-generation tradition in winemaking in the Blue Ridge Mountains. There, he produced annually over 50,000 cases of 30 different award-winning wines and ciders. He spent much of his winemaking career also in Oregon and Australia.

Assistant winemaker Mark Ward studied enology and viticulture at Washington State University. Ward's first harvest was at Pamplin Family Winery in Oregon. Then to explore the Virginia wine industry, he accepted an internship at Vint Hill apprenticing under Ashton Lough.

Want to learn the art of wine making? There is a class for that. An aspect that makes Vint Hill unique is their Home Winemaking Classes. At the winery, wine enthusiasts have access to winemaking equipment, receive course instruction and walk away with two cases of wine they personally craft. Each session includes four classes from 1-3 p.m. for a total of eight hours of instruction and hands-on learning. The next session's four Saturday classes are 3/4, 3/18, 4/8 and 5/6. Classes include a fee and fill up quickly.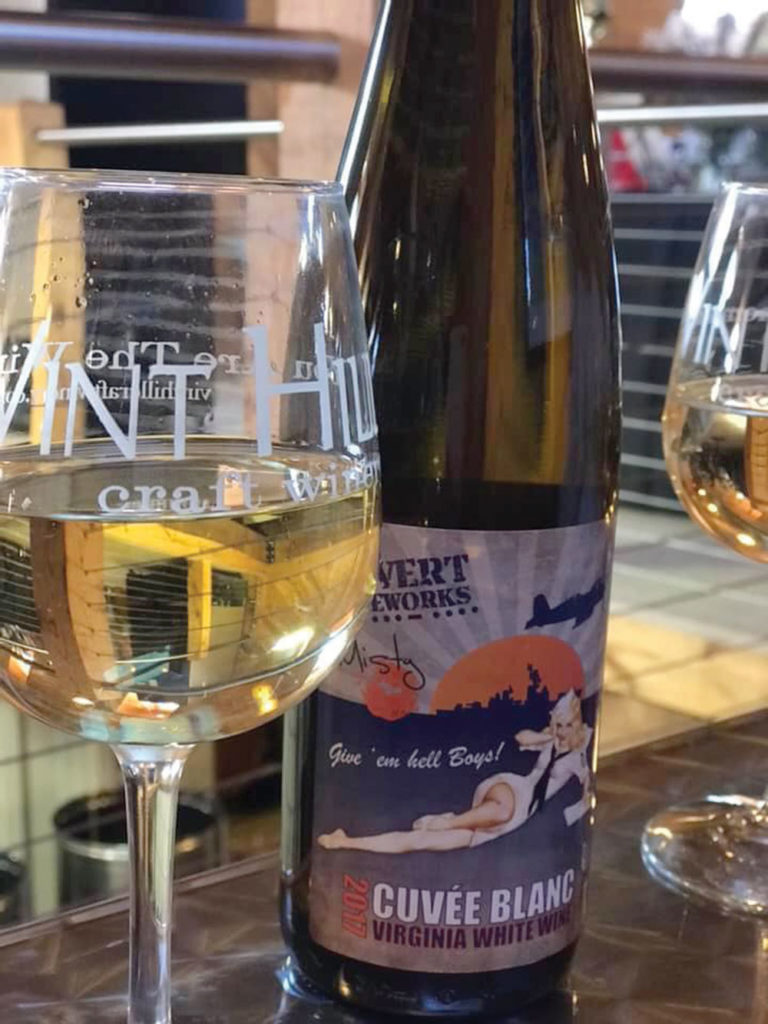 Vint Hill has a rich history in wine making but is truly distinctive due to its legendary military history. Before the Army used Vint Hill for its secret operations during World War II, legend says that Thomas Jefferson came here to get his education about wines when the area was a vineyard. In the May 9, 1803 deed of previous land owner Thomas P. Hooe, the phrase "Vint Hill" was used, "Vint" originating from "vintner," meaning wine merchant.

In July 1911, Mitchell Harrison, a Harvard graduate and retired businessman from Philadelphia, bought the land and raised purebred Shorthorn cattle and valuable show horses. An expert equestrian, he entered in all the local prestigious horse shows. In 1913, Harrison bought nearby Buckland Farm on Vint Hill Road, and soon after, purchased Armstrong (now Acorn) Farm. Harrison constructed the "Barn Complex" in 1916 with beautiful slate roofs to shelter his sheep, cattle, prized horses and a barn to house livestock sales. It was Harrison who changed "Vint Hill" to "Vint Hill Farms," which was a common fashion among country estate owners.

In the spring of 1942, the land known as Vint Hill Farms was about to change. Farmers working the land heard people speaking German over transistor radios. So in June 1942, the U.S. Army purchased 721 acres from the heirs of Harrison for $127,500 to create Vint Hill Farms Station (VHFS) and Monitoring Station No. 1 for the purpose of establishing a monitoring station by converting the existing barns into a listening post during World War II. This barn-turned-spy base was chosen as a secure, quiet and covert site to serve nearby Arlington Hall Station, the headquarters of the U.S. Army Signal Intelligence Service (SIS), later known as Signal Security Agency (SSA). The first Army personnel reported to the base at Vint Hill on June 12, 1942.

One of the main significances of VHFS lies with its role in the Allies' successful D-Day invasion, which turned the tide of World War II in Western Europe. Incoming messages were decoded in the upper level of a large dairy barn that now houses Vint Hill Craft Winery. The unit set up shop on this barn's second floor with rows of young men sitting at small desks, earphones on their heads for eavesdropping and Teletype machines at their fingers for transcription. Other outbuildings/barns in the "Barn Complex" served as a central core of the Army's operations.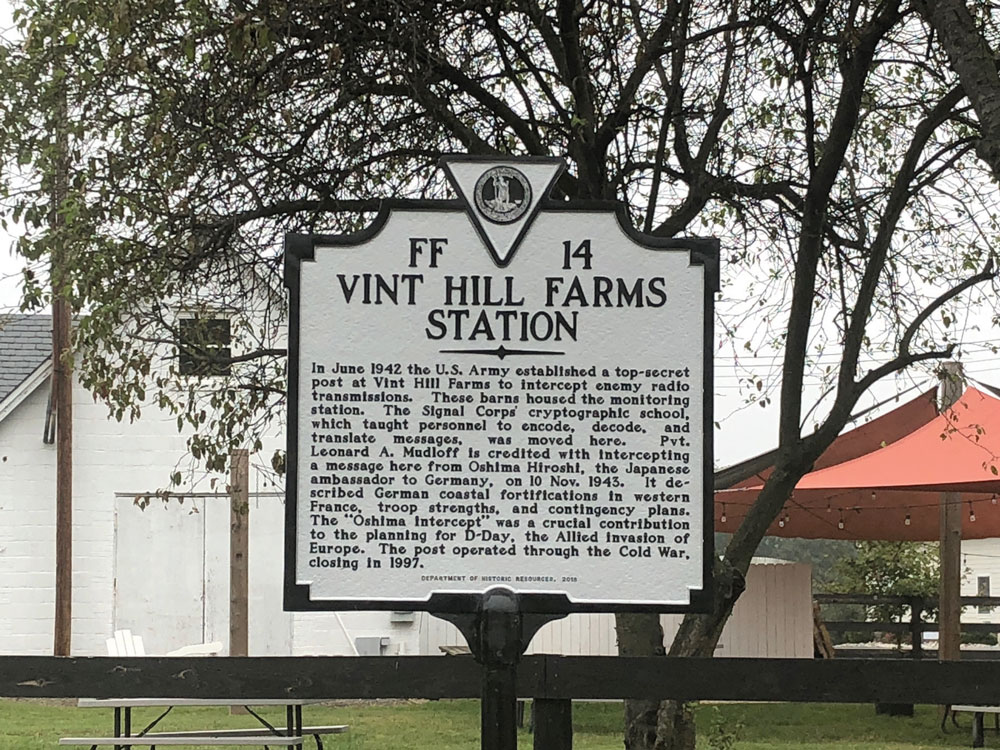 Here, on Nov. 10, 1943, the late Pvt. Leonard A. Mudloff was at his desk copying an intercepted radio message from Hiroshi Oshima, the wartime Japanese ambassador to Nazi Germany and an admirer of Hitler. Unwittingly, Oshima supplied the U.S. with this transmission that contained locations of German defenses along the Normandy coast, which even included the names of all the German commanders. The information captured was key to the Allies' planning of D-Day. U.S. General George C.
Marshall summed up Oshima's role (known as the "Oshima Intercept") as "our main basis of information regarding Hitler's intentions in Europe."
After World War II, the base handled much of the reconnaissance and espionage that played a role in the 1962 Cuban Missile Crisis. During the Vietnam War, the barns were used in 1972 for training cryptanalysts, radio intercept operators and people who repaired equipment. In 1973 the base's focus switched to research and development. VHFS was referred to as "Washington's giant ear" playing a critical role, first as a secret listening post and later as a center for the development of sophisticated equipment designed to intercept enemy transmissions.

In 1993 the Base Realignment and Closure Commission recommended that Vint Hill be closed as part of the Department of Defense's broad post-Cold War streamlining effort. The government dismantled the base on June 12, 1997—55 years to the date of its opening on June 12, 1942. During those 55 years, VHFS was home to thousands of soldiers living in nearby Army barracks and civilians who contributed to national security during World War II and the Cold War.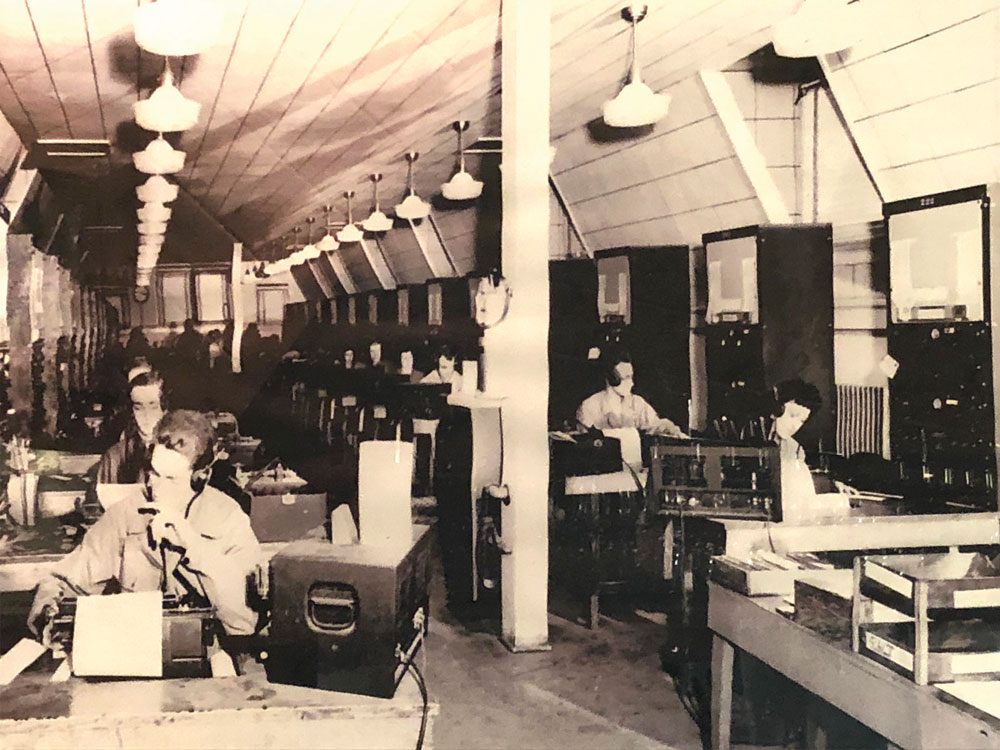 In 1998, the Vint Hill Economic Development Authority (VHEDA) was formed through state legislation to redevelop the property. In 1999, VHEDA purchased the property; working with Fauquier County,
the property was rezoned for planned commercial, industrial and residential development. On Sept. 1, 2018, a U.S. Department of Historic Resources historical roadside marker titled "Vint Hill Farms Station" was dedicated and is located at the intersection of Farm Station Road and Lineweaver Road.

According to a Fauquier County government document dated Oct. 10, 2013 titled, "Proclamation," it states that November 10 is designated annually as Vint Hill Farms Station Day. The document states that the contents in Oshima's message "profoundly influenced Allied planning for Operation Overlord, thereby saving countless American lives." It also notes that the coincidence of Mudloff's interception of this message [on Nov. 10, 1943] just one day before Veteran's Day and Armistice Day make November 10 the "ideal date to recognize not only his devotion to duty but also the military service of all the men and women who were posted at VHFS throughout the years, and to call attention to the historical value of VHFS."

Now armed with a new mission, Vint Hill Craft Winery is primed to bring people together to share a glass of wine in a country setting surrounded by history. And that's no secret.

Vint Hill Craft Winery is located at 7150 Lineweaver Road in Warrenton. Visit their website at www.vinthillcraftwinery.com or call 540-351-0000. To enroll in the next Home Winemaking Classes, email info@craftwinery.com or call the winery. Normal operating hours are Wednesday-Sunday, 11 a.m.-6 p.m. with extended hours on Friday nights in the courtyard.
This article first appeared in the February 2019 issue of Middleburg LIfe.