Sandy Lerner was awarded the Cat Writers Association President's Award for her recently released book "Caticons, 4,000 Years of Art Imitating Cats."  The CWA President's Award is sponsored by the Cat Fanciers' Association and is presented each year to the best of the best award winners.  This year's conference and awards presentation were in Houston.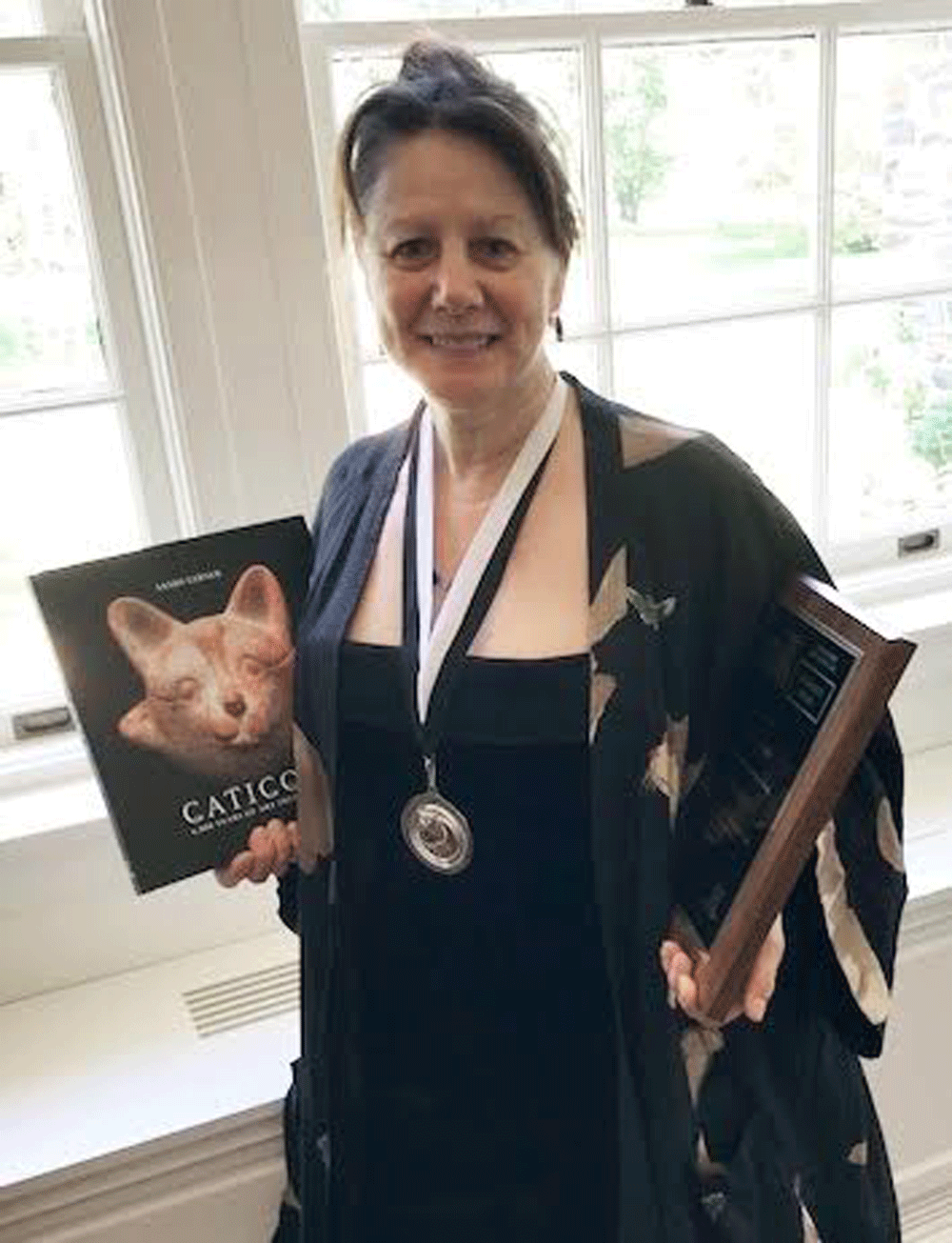 "We are delighted to have presented this award to Sandy for her book.  I selected it because it has it all from research, stunning photos, captivating anecdotes, and attention to tiny details," said CWA President Marci Kladnik, "the personality of the author and her love for cats shows through. Much history was learned as I turned the pages and I must admit, much envy as well."
Caticons chronicles Lerner's thirty-year odyssey probing the corners of the art world, catalogues, foreign shores, and cyberspace, all in search of the one Cat Thing she did not have. The book takes readers on a journey, a "catwalk of 4,000 years of Art Imitating Cats and the ways in which humans have expressed their love of and appreciation for all things feline."
Caticons is an intimate and very personal glimpse into a unique and wonderful—but highly specific—journey that spans four millennia, five continents, and virtually every genre of decorative arts.  Even for those who are not avid cat lovers, the book is riveting in the scope and breadth of the collection that Lerner has amassed and the history and explanation behind each example, curated with both care and humor.  The collection includes works by such as Picasso, Matisse, Giacometti, Fragonard, Manet, Fabergé, Tiffany, Lanvin and many others makers who surprise and delight the reader.
Within the 300 pages of gorgeous photography, Lerner brings us into a world that includes items such as a Hittite ceremonial cup with cat's face made of earthenware from 1700 BC to works of the current century along with a little history, some prose and poetry, and much love.  There are paintings, sketches, jewelry, books, screen plays, clothing, furniture, ceramics, china, porcelain, earthenware, bronzes, sewing articles and housewares—even a cat Tarot, a German chess set with cat playing-pieces, and a truly beautiful and bizarre citrus-reamer.  Interspersed throughout the book are tributes to cats by renowned people from all aspects of life—historians, artists, authors, poets, philosophers, photographers, entrepreneurs and others Lerner has come across during her 30 years of collecting.
Lerner may be best known for her co-founding of Cisco Systems, Urban Decay, promoting animal welfare and, her decades of certified organic, humane and predator-friendly farming and agricultural enterprises: Ayrshire Farm and Gentle Harvest; her work within the animal welfare community is equally well-respected.