Story and photos by Kerry Dale
He's been at it for more than 40 years, but if you'd known Nick Greer in his restless youth, you would never have imagined him settling down into a career as an antique conservator.
Before the age of 25, Greer delivered newspapers and worked as a children's party ventriloquist. At age 11, the native New Yorker was featured in "Life" magazine. "After that," Greer recalled, "the phone never stopped ringing, and the money I saved from performing for three years put me through two years of private college."
He also worked as a motorcycle courier, soda jerk and shoe shiner and in the press of a newspaper. Surprisingly, sanitation engineer was his favorite job. "I always liked physical labor and loved the guys I worked with," he said. "The camaraderie was great."
After graduating from George Washington University, Greer headed west to California on the fuel of his thumb. When Sherman Walden, owner of a large ranch in Pescadero, California, picked up Greer, the rancher offered him a job as a cowboy.
It was a foggy night when Greer arrived at his new home, a wood shack with only a wood stove and no plumbing. When Greer awoke to the spectacular view of the Pacific Ocean, his shack became his palace and allowed him to overlook the primitive living conditions.
He learned to become more self-sufficient and lived off the grid. Before long, he was feeding himself by killing rabbits with a stone, gathering mussels and abalone along the shoreline and taking advantage of the plentiful vegetables grown for market on the farm.
Greer loved California and his simple life on the ranch above the sea, but soon was called back east to attend law school. While waiting for classes to begin, he took a job with a woodworking contractor in Northern Virginia. This ended his law school plans.
Almost immediately, he felt like he discovered a passion and profession in his new job. Years earlier, as a teenager and home sick from school for a few days, his grandfather, a master wood carver and sculptor, brought him a redwood board to carve.
Greer found a picture of a farmer with a plow and commenced to carve his first piece. Greer still has the woodcarving and attributes his career to his grandfather and that first carving.
His new employment took him to the Smithsonian Institution's Arts and Industries Building in Washington, D.C., and its bicentennial celebration exhibit. While there, he helped create reproduction pieces for display. On the job, Greer lost a finger to a joiner and opted for restitution of $3,500, which he used to buy tools and set up his own shop out in the quiet countryside, just north of Purcellville in western Loudoun County.
Soon, Greer was producing perfect miniatures of precious antiques that he took to local country fairs. People purchased the miniatures, which served to promote his fledgling business of making and restoring furniture. From this humble beginning, Greer has not looked back.
"You really couldn't see the repair. I challenged my friends and family to find it. He did a beautiful job."
— Tim Dunn, one of Greer's clients
Today, Nick Greer is the region's pre-eminent antique conservator. He continues to do work for museums and collectors and is thought to be the most comprehensive craftsman in his trade.
In his shop, Greer's staff engages in upholstering, caning and seat weaving, gold leafing, furniture building, French polishing and conservation. These efforts might entail matching a leg, marquetry or anything an object needs to bring it back to its original state.
Greer and his talented group of 15 employees adhere to production methods of days gone by. Turnings are done on a hand lathe, French polish is made in-house from the shell of the lac bug, and joints are mortise and tenon, while drawers are dovetailed.
All of Greer's furniture restoration is done to retain as much of the original as possible. This includes use of antique woods to match both grain and patina.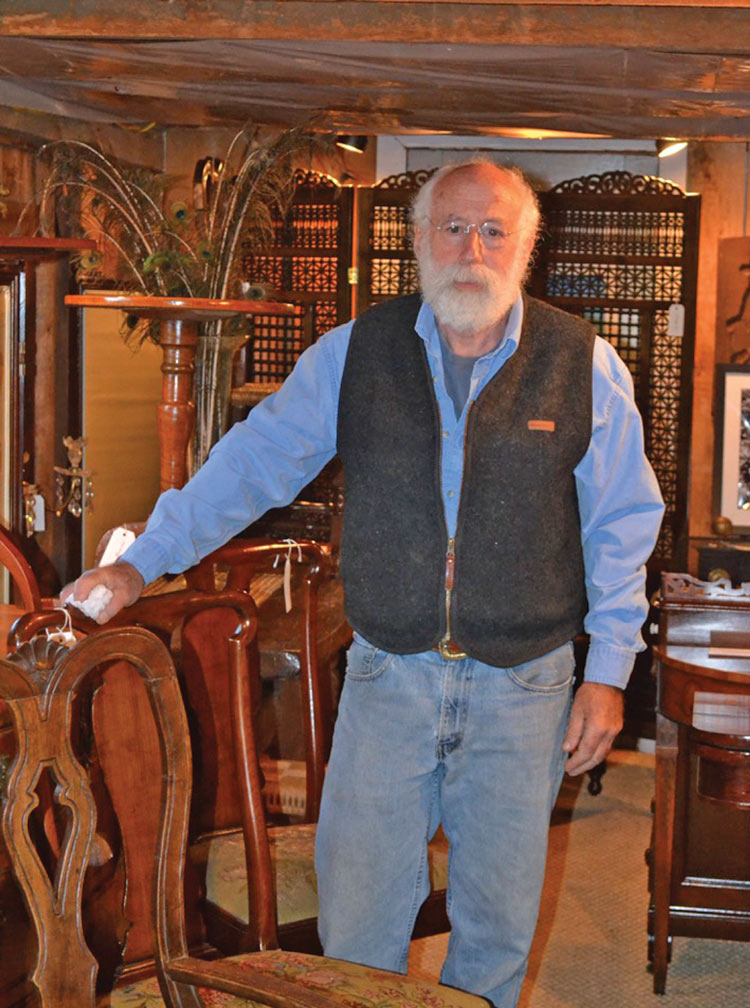 Greer surrounded by restoration work at his workshop and studio outside of Purcellville.
When a longtime Middleburg resident returned from a Boston auction with an important sideboard that originally belonged to Middleburg founder Levin Powell, she called on Nick Greer. The circa 1780 piece was in desperate need of repair.
"He completely restored it, inside and out," said the owner. "Nick took the sideboard from condition 'D' to condition 'A.' He did a super job."
Client Tim Dunn of Middleburg asked Greer to take a look at a fine, although not antique, English-made table of crotch mahogany that was damaged when a candle ignited a piece of cloth. Dunn assumed that replacement of the entire top might be necessary. Upon inspecting the damage, Greer simply said, "Let me see what I can do."
The master craftsman performed his usual magic. The burned section was removed and replaced with a perfectly compatible piece of wood; the finish was restored with virtually no trace of the restoration.
"You really couldn't see the repair," said Dunn.  "I challenged my friends and family to find it. He did a beautiful job."
With no plans for retirement, Greer has managed in recent years to squeeze in some leisure time, which he most often fills with playing tennis. An avid and accomplished player, if Greer can't be found in his shop applying a historically proper French polish to an 18th century table, you might just find him on the tennis court shellacking his opponent. ML
---
Nick Greer Antiques Conservator: Open Monday-Friday 8 a.m. to 5 p.m.
37627 Allder School Rd., Purcellville, VA 20132
540-338-6607 | greersant@aol.com
greersconservation.com