Origin of a Recipe | Story by Aaron Lynch and Amber Sky
Photos by Amber Sky
Tantalizing Thai Curry that will transport you into the delectable world of deliciousness.
Aaron and Amber, here again, excited to share our latest adventure where we discovered the most amazing curry sauce and the origin of its recipe. Our journey started at an exquisite table next to a glowing fire. Our experience was so worth the journey and we promise that you will taste a most impressive curry.
Nestled in picturesque Middleburg is the savory Thaiverse Restaurant. Be prepared to be immersed in the amazing Southern Thailand culture through their explosive flavorsome dishes and creative cocktails. Owners, Chef Piya and James Cameron, invite you to travel through their well-appointed restaurant and escape the busyness of today. Every detail is considered and is presented through impeccable ingenuity. Dining at Thaiverse Restaurant is truly a prodigious experience!
One day while living and working in London, Chef Piya found herself making a choice that would change her life completely.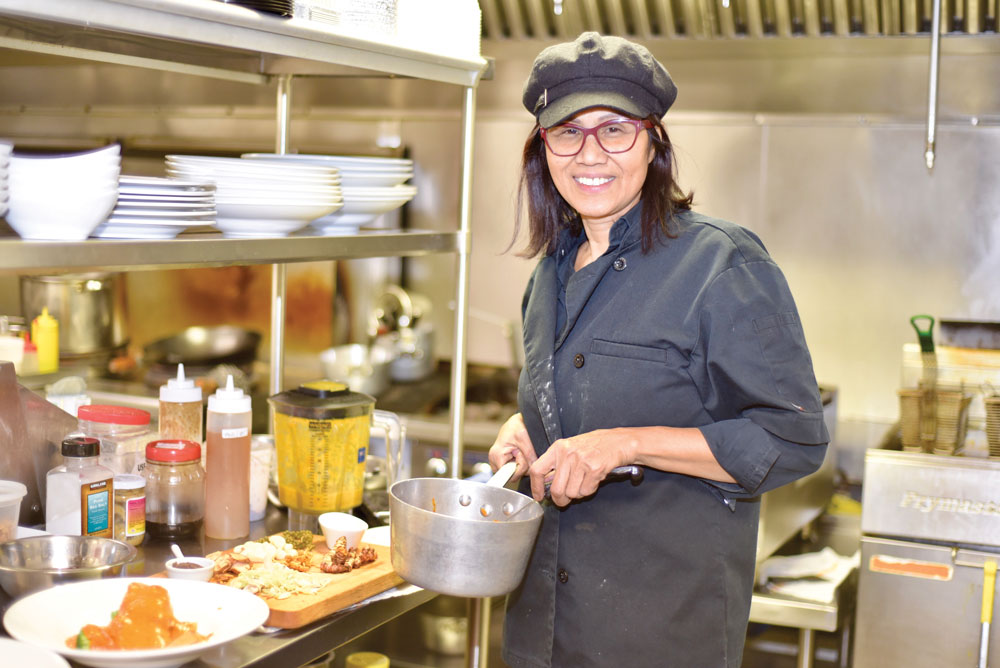 "While working as a waitress at Bangkok Palace, my job was to serve my guests whilst looking beautiful in a very tight light-blue dress. Every once and awhile, before my shift, I would cook for the owners of the restaurant. They loved my cooking!"
Then, one implausible day, the four-chef team all walked out of the popular restaurant and left a full house of hungry guests. Piya brazenly stepped up and seamlessly took over in the kitchen.
"I cooked until every guest ate, all while wearing my tight light-blue dress. I cooked from 7 p.m. to midnight." That courageous decision led to her being named Chef Piya the next day. Over the next nine years, Chef Piya and her team created and cooked many delicious dishes that were added to the menu. "I even had the honor of cooking for the Prince of Thailand at the prestigious Windsor Castle Restaurant," she said.
While growing up in Southern Thailand, the chef remembers getting up early every morning to make curry from scratch in a mortar and pestle. "Every morning I would hear the "bang, clink, bang" from the mortar. There was not a machine, everything was put in the stone mortar," she said.
Making fresh curry became second nature to Piya and her sister, it evolved into a family tradition. Her family only used the freshest of ingredients, something she stays true to today in her restaurants. While most American establishments use pre-made curry paste, Chef Piya refuses to diminish the flavors that can only be tasted through freshly made curry paste.
Chef Piya is ecstatic to share her tasty curry recipe with you. When we first tried the curry sauce, we were completely stunned. The migration of flavors through our palates was explosive and we could not get enough of the curry sauce. Thankfully, it is used on multiple dishes at Thaiverese and we had the pleasure of tasting many of them. All dishes are carefully crafted with the finest ingredients and never contain MSG.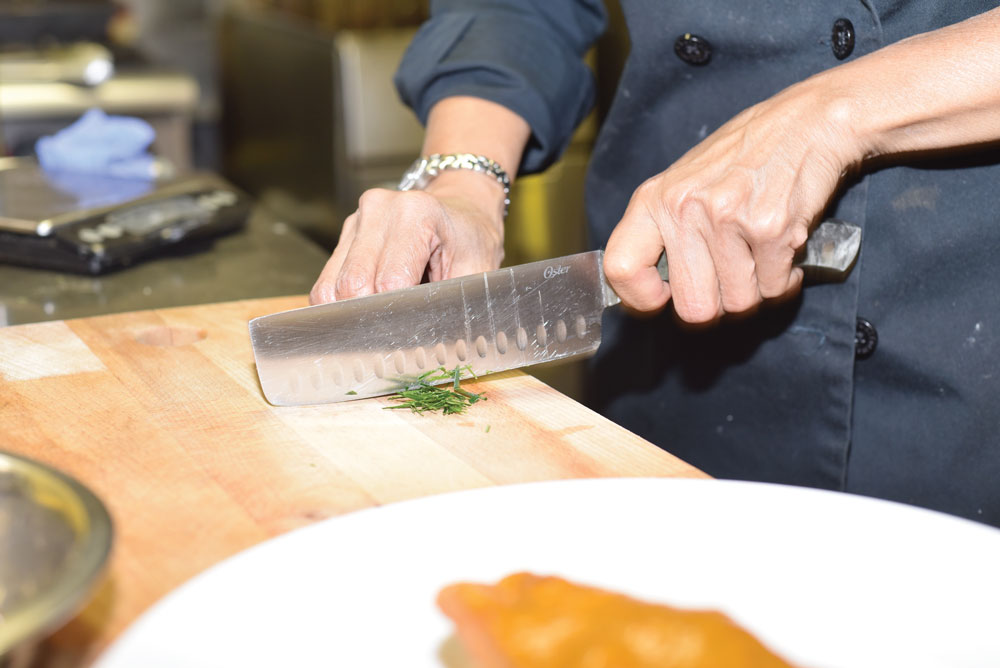 The commitment to bring the authentic flavors of Southern Thailand to Virginia is inspiring. In the foyer of Thaiverse Restaurant is a Kaffir Lime Tree. While aesthetically pleasing, the hourglass-shaped "double" leaves of this tree are also used in many of the Thaiverse dishes. The owners grow other traditional ingredients on-site on the luxurious patio area. Instead of using processed turmeric powder, Chef Piya finely slices fresh turmeric.

We encourage you to journey to a new culture and try this Thaiverse recipe. It may become one of your family's favorite.
Thaiverse Choo Chee Salmon
(serves 4 people)
Salmon Ingredients:
4 pieces filleted skinless salmon (about 7 oz each)
1 tablespoon finely sliced Kaffir lime leaves
3 cups coconut milk
1 tablespoon fish sauce (optional) or 1 teaspoon sea salt
1 tablespoon palm sugar (coconut sugar)
1 tablespoon light virgin olive oil
Plain Thai Jasmine rice
20 green beans
2 carrots
Cooking oil
1 red chili pepper thinly sliced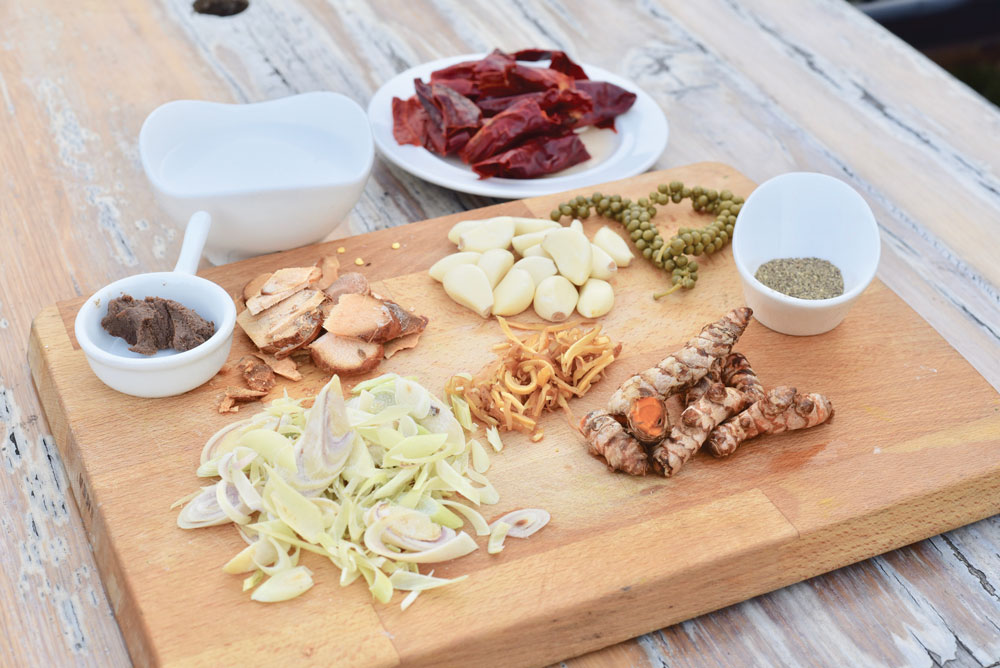 Ingredients for the Southern style curry paste:
8 large dried grand red chili peppers (seeded and soaked in water)
5 shallots peeled and washed
10 cloves of garlic peeled
1 tablespoon toasted coriander seeds
1 tablespoon toasted cumin seeds
2 tablespoons Lemongrass finely sliced
1 tablespoons Galangal finely sliced
2 tablespoons fresh turmeric finely sliced
1 tablespoons peppercorn
1 teaspoon sea salt
1 teaspoon shrimp paste
1 cup of coconut milk
(If you like spicy add 4 or 5 hot Thai chili peppers)
Directions:
• Put all the curry paste ingredients in a blender and blend until it is a smooth paste.
• Take a heavy saucepan and put on medium heat and add a tablespoon of light virgin olive oil, then add the curry paste, stir constantly for around 5-7 minutes until the curry aroma emerges.
• Add 2 and 3/4 cups of coconut milk (saving some for garnishing), add the fish sauce (or sea salt),
add palm sugar and simmer on low heat until nice and thick.
• Take salmon and coat in dry self-rising flour (ignore this step for gluten-free option).
• In a deep non-stick pan add enough cooking oil to completely cover the salmon.
• Heat to medium heat and carefully add salmon and deep fry for 4-5 minutes or until golden brown.
• Boil the carrots and beans for 3 minutes.
• Slice the carrots lengthwise and arrange with green beans on the individual plates, place a piece of salmon on each and smother with curry.
• Garnish with sliced red peppers, kaffir lime leaves, and the remaining coconut milk.
• Serve with rice.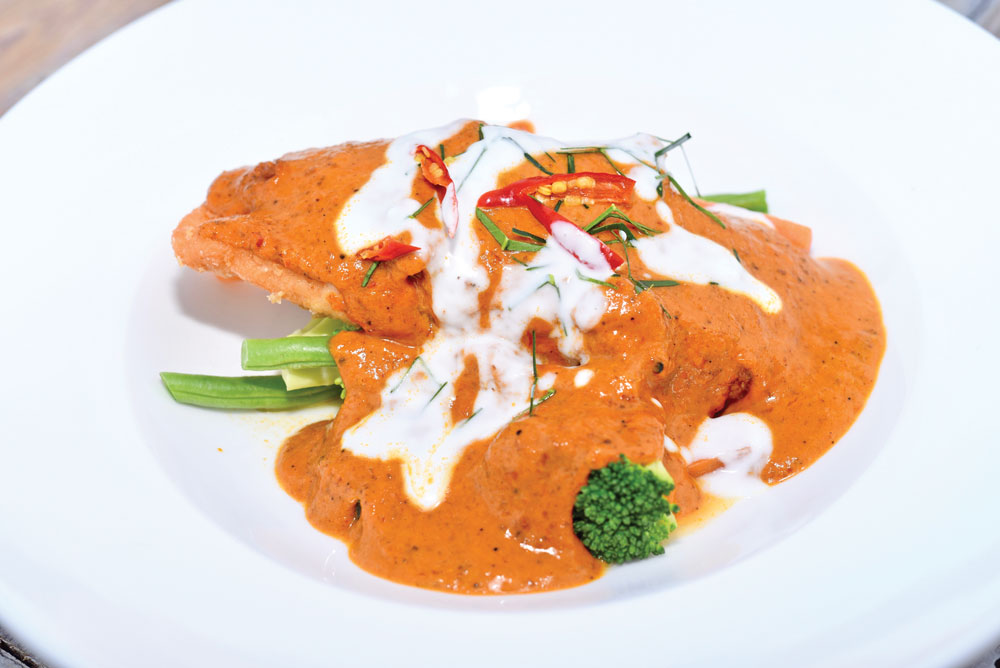 Today, the couple own two restaurants, one in Middleburg and one in Lovettsville. Their goal is to open a third location. If you stop by, tell them Aaron and Amber sent you!
Visit originofarecipe.com to read more from Aaron and Amber.
This article first appeared in the January 2019 issue of Middleburg Life.