Story and photos by Marcia Woolman

The Goose Creek Association's (GCA) annual riparian buffer tree planting project had its most successful year since starting its five-year-old project known as the Goose Creek Challenge. The Challenge is to plant 3,000 trees each spring to protect the water quality of our local watershed.
This year's projects produced outstanding results using a combination of community resources, among which were John Marshall Soil and Water District led by Tom Turner and Loudoun Conservation District's Pat McIlvaine, coupled with volunteers from GCA and several public and private schools in Loudoun and Fauquier counties that share the Goose Creek, 350-square mile watershed. Working together to protect nearly two miles of stream banks, they planted 2,470 trees and shrubs, all of this using local students, teachers, parents and Goose Creek volunteers. They provide the expertise, order the trees, provide the tools and educational instruction on why and how riparian buffers protect our water quality, both here and downstream, even indirectly protecting the Chesapeake Bay.
The teachers prep the children in classroom studies to understand the importance of stream buffers to our water quality. The GCA provides assistance to volunteers and professionals by coordinating those who work on these projects and providing lunches and assistance throughout the day.
Besides protecting our precious water, it is extremely gratifying to know community volunteer leaders from the Goose Creek Association are providing valuable outreach to the schools and clubs for a true hands-on conservation opportunity that these students will never forget. The co-chairs for the Goose Creek Challenge this year were Dulany Morison and Marcia Woolman with a great deal of assistance from Eleanor Morison. Hopefully, it will heighten the students' awareness of what it means to preserve the environment from harm.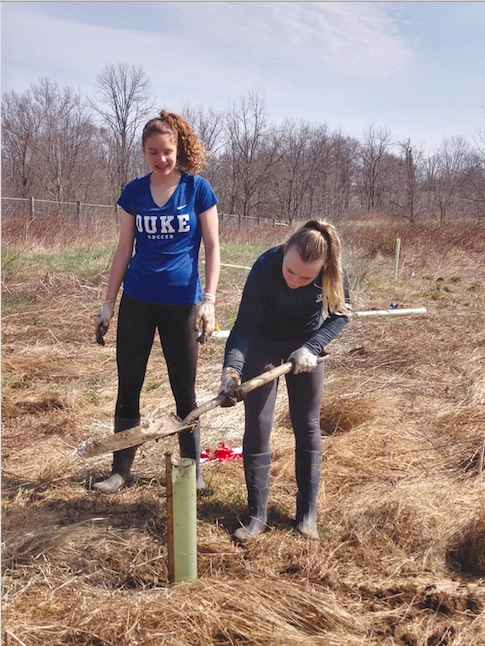 Over one weekend in April, 80 Loudoun County public school students, parents, and teachers planted approximately 625 trees and shrubs in a wonderful example of community spirit. Also during April, other schools came out as part of environmental science classes or to fulfill the educational requirement for every student to have a "Meaningful Outdoor Educational Experience," including Highland School in Warrenton, both the Hill School and the Montessori school from Middleburg, and a hardworking group of older students from Middleburg Academy; all told, this group planted 600 trees in four hours.
The final planting was accomplished by a small group of Fauquier County students who planned to come with parents on another weekend. That brought the total to six planting projects in Loudoun and Fauquier counties. All were in the Goose Creek watershed. The total number of participants was 187 and included students, parents, teachers and Goose Creek Challenge volunteers. There were 2,470 trees planted along the creek and wetlands in an area covering 1.41 miles.
The Goose Creek Association provides guidance and lunches for all participants from funds donated by the community. Teaching by example, protecting our resources, and providing a day on a stream or in a wetland for students to really understand how everything in nature works together is a great way to show what a difference a community effort can make. ML