Story and photos by Ashley Bommer Singh
This is the month to grab your clippers and bring everything inside. Greens, berried branches, mistletoe, magnolia leaves, conifers – forget the gardens and fill your home with wintergreen. Before she wrote The Tale of Peter Rabbit, Beatrix Potter made paintings and cards of rabbits dancing around a Christmas piper with holly decking the walls. To capture some of that wild merriment, I fill garland with lights, drop paperwhite bulbs in vases, and buy poinsettias. And we always cut down a Christmas tree.
Tree cutting is an adventure. One year, my father who was visiting picked a tree so large it took four people to lift it. Another year, on Christmas eve, we trudged up the snowy Sierra Nevada mountains with out National Forest Service permit in hand, huffed and puffed to drag our tree down through the snow. The tree made the cabin smell like a fairytale. No matter the journey, a freshly cut tree brings magic and memories.
Middleburg Christmas Tree Farm is one of Virginia's oldest and largest choose-and-cut farms. Once a working farm with cattle, beans and corn, the land was repurposed in the early 1980s when owners Frans Kok and Mary Shirley bought the property. They planted trees on the abandoned fields to turn the land around and today, there are than 70,000 trees and seedlings on the 100 plus acres.
This Piedmont treasure is an engine of evergreen spirit drawing families come from across the region.
Kok greets visitors in a jolly red suit when not answering the farm phone that plays Jingle Bells. Tree hunters better act fast. Even though there are 2,500 trees to choose from, the owners say they may run out well before Christmas Eve. Unlike a tree on your own farm or field, these trees have been pruned, shaped and tended to year-round. Middleburg Christmas Tree Farm Manager Denny Clatterbuck and Kok plant close to 6,000 saplings every year to keep up with demand. They started with white pines 30 years ago, but now grow Douglas, Fraser and white firs and Norway and Blue spruces. They are experimenting with Korean and Serbian firs.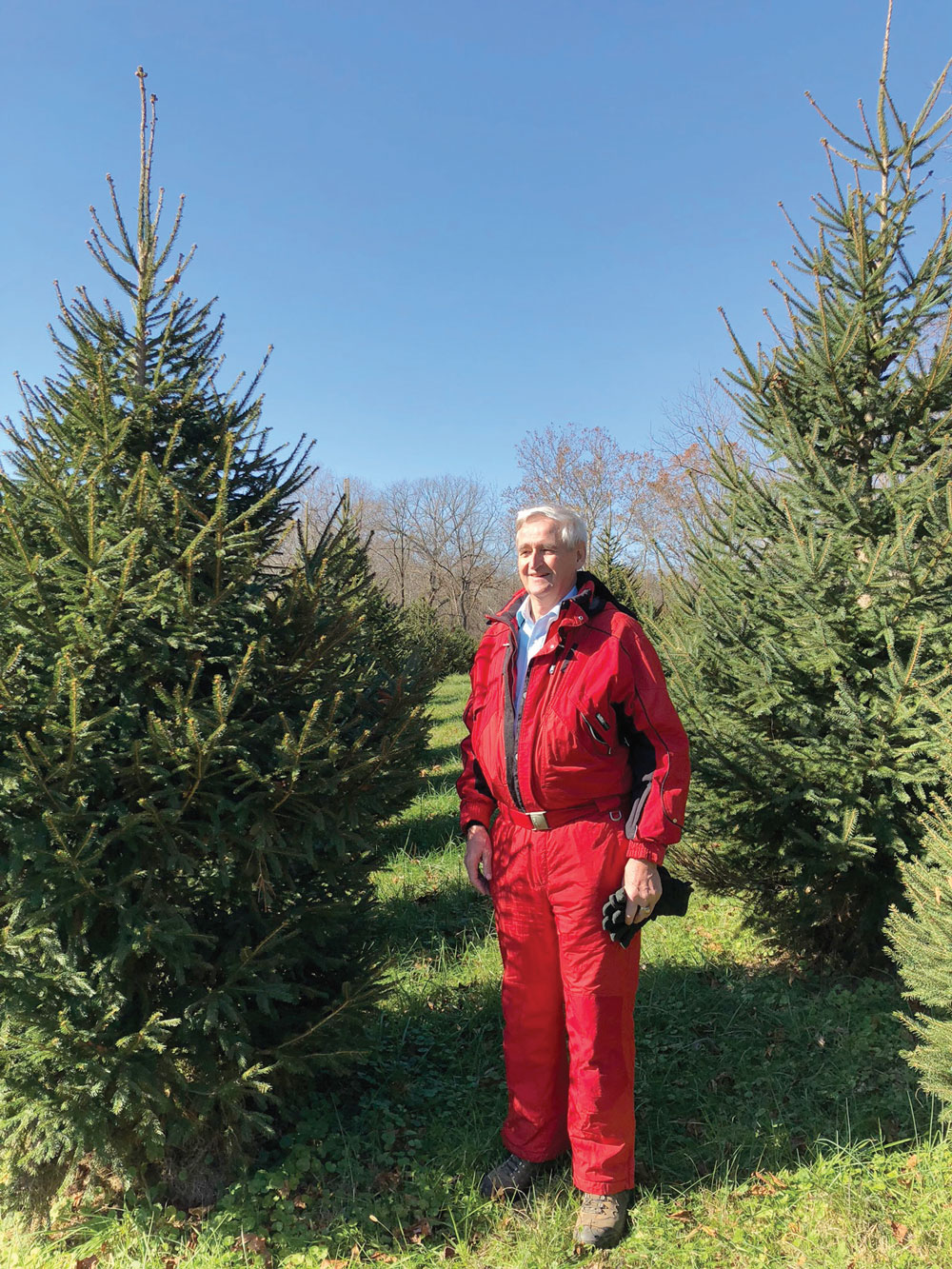 The most iconic Christmas tree, the magnificent Norway spruce, can drop its needles all at once – a disaster if shed before Christmas. They are a prickly triumph with the right care. Rockefeller Center chose a 72-foot, 75-year-old Norway Spruce this year to great fanfare. Tips: Make a ½ inch fresh cut before bringing inside. Water quickly and regularly to keep them going.
Some people tie plastic bags around the trunks on the drive home to prevent them from drying out. Blue spruces go on forever with no hassle, but they don't have that scent. White pines are native to Virginia and were once the tree of choice with long cones, pale green needles and smooth bark. The firs give a home that smell of pine and citrus. We never know what we will choose until we spot the perfect one.
Buying local helps Virginia farmers who provide tens of thousands of seasonal jobs and provide sanctuaries for wildlife. Farmers plant thousands of seedlings each year with hopes of seeing a profit in a decade all the while dealing with floods, drought, disease and insects. Middleburg Christmas Tree farm is full of redwing blackbirds, blue birds, owls, foxes and cooper's hawks. Two bald eagles visit every season.
Kok estimates that more than 70% of trees in homes are now artificial, which is crushing to farmers and the environment. Fake trees, almost all from China, crowd the market. Live Christmas trees are a renewable resource and serve as a carbon sink while growing. A tree can be turned into mulch. Rockefeller Center's giant Norway spruce will be milled into lumber and donated to Habitat for Humanity for housing.
Poinsettias are also the stars in our holiday decorating. Diana Owens at Abernethy & Spencer Greenhouses has been growing thousands of these beauties from cuttings annually for more than 40 years. The cuttings arrive unrooted from Guatemala in March and she plants each by hand.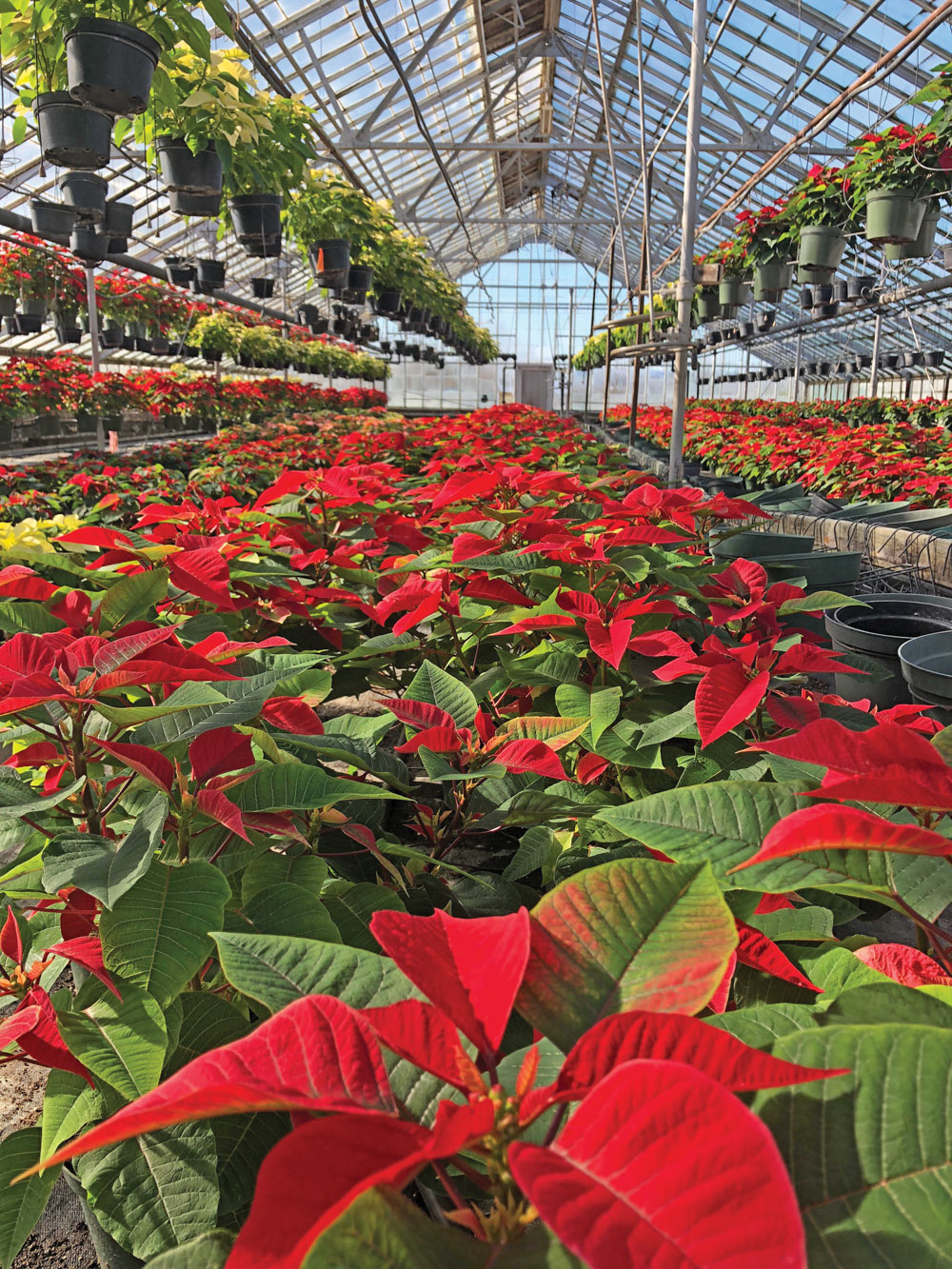 This year she planted 6,000. They grow in 70-degree glass greenhouses, are watered daily, and the leaves start to turn red after October's full moon. One cutting has 3-5 flowers, so if you buy a 7-inch pot with three plants, you can expect 9-15 blooms. Because they are grown naturally, homeowners can expect four flowering months if the plant is watered three times a week and kept in natural light.
Poinsettias are known as "Noche Bueno" in Mexico because they achieve peak bloom on Christmas Eve. Joel Roberts Poinsett, the first U.S Ambassador to Mexico, noticed them growing in the countryside and sent cuttings home to South Carolina in 1828. Mix up the poinsettias decorating with paperwhites, Christmas cactus, cyclamen, and amaryllis. Then, put a roast in the oven, maybe some Yorkshire pudding, add Beatrix's holly to the wall, and dance around with the ones you love this December.

The Middleburg Christmas Tree Farm is located at Christmas Tree Ln, Round Hill, VA 20141, and is open Friday thru Sunday from 9 a.m. to 5 p.m. 
This article first appeared in the December 2018 issue of Middleburg Life.