A tradition celebrating Middleburg's status as an official Healthy Eating Active Living Town returns this month for the third year.

The Town of Middleburg will host the third annual HEALth Fair & 5K on Saturday, March 30 from 8 a.m. until 1 p.m. at the Middleburg Community Center, 300 West Washington St. The event is a celebration of the Town of Middleburg's commitment to Healthy Eating and Active Living (HEAL).
Middleburg's HEALth Fair & 5K promises to be a fun and informative day for all members of the community as well as visitors. There are activities for the youngest to the oldest members of the family including running or walking in a 5K race, learning more about health and fitness from local professionals, sampling healthy foods, visiting over 25 vendor booths and watching the documentary Styrofoam Mom.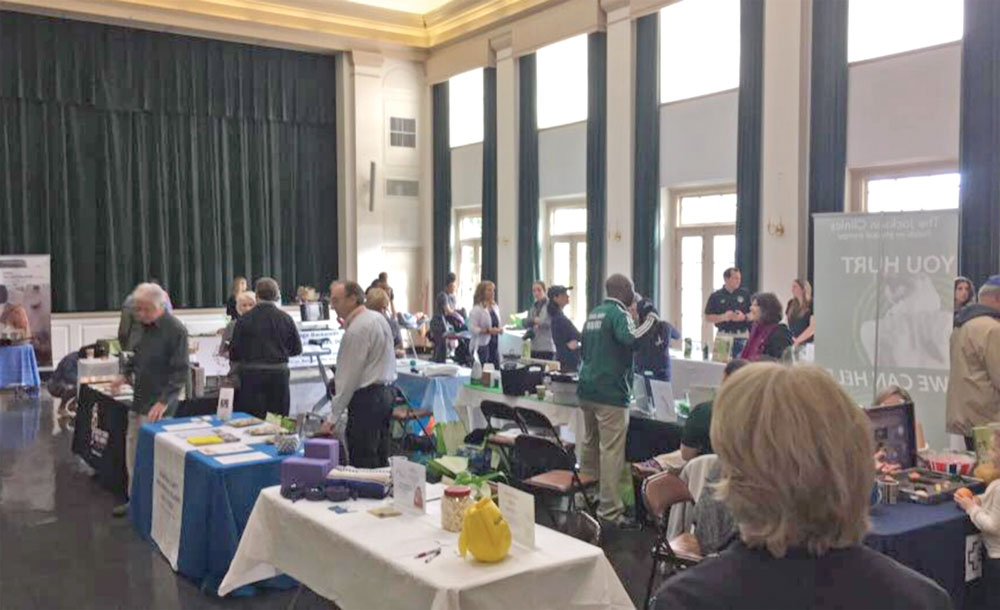 The health-focused day begins with a timed 5K race at 8 a.m. and a Dog Jog at 9 a.m. The race course will take participants through the picturesque town of Middleburg, including the grounds of Salamander Resort. The races will start and finish at the community center. Each race participant will receive a commemorative T-shirt and will compete for an award in their age group. Race registration is $30 for the 5K and $25 for the Dog Jog. Proceeds from the 5K will benefit A Place to Be and help support summer camps for Middleburg/Aldie Boy Scout Troop 2950.

Vendor booths and local health and fitness professionals will be on hand from 8 a.m. until 1 p.m. Presentations will begin at 10:30 a.m. with 'The Power of Music Therapy' by Middleburg nonprofit, A Place To Be. The fair will also host a special screening of StyrofoamMom at 11:30 a.m. The film was written and produced by local health and environmental advocate Miriam Gennari. This unique documentary offers a lighthearted, yet poignant chance to meet the people working to solve the health and environmental challenges of Styrofoam. Along the way, Gennari lets us in on the lessons she learned – often the hard way – on her journey from naïve but concerned mom to savvy expert. Gennari will be on hand to discuss the film and answer questions after the screening.

The HEALth Fair & 5K is organized by the Middleburg Town Council's "Go Green" Committee. Peter Leonard-Morgan, the town council representative for Middleburg's Go Green Committee, has been hard at work on the event. He's excited and confident that turnout will be good this year. "It's a great town, it's a great race, it's a perfect time of year." Booths will showcase established products and offer a few easy, on-the-spot health screenings. Entry to the fair is free. Attendees will receive a reusable grocery bag. Win prizes by picking up a Healthy Passport and getting it stamped at 90 percent of the booths.

Woody and Nancy McMahon are once again helping organize the HEALth Fair. McMahon who says he has been attending health and wellness fairs for 30 years points out that the community can expect lots of variety in the booths with a focus on holistic health and wellness. "We're trying to broaden the field," said McMahon who teaches Tai Chi classes at the community center. He wants people to understand that fitness doesn't mean a commitment to health clubs and workout clothes. His wife who is a passionate yoga instructor, shares the view that exercise can and should be fun and accessible. She notes that "social interaction is so important, as well, for our physical and our mental health."

That's the goal for both the HEALth Fair and the 5K, says Leonard-Morgan. "When you're with other people," he says, "there's a whole team spirit." Teri Domanski spearheaded the 5K race planning which will take place come rain or shine. Walkers who'd like to participate are welcome to join the fun beginning at 8:15 a.m. and are not required to register. "The community and the businesses are really great," Leonard-Morgan said. "I think most of the businesses here are really community-oriented, which is wonderful."
The event is designed to raise awareness about Middleburg's focus on wellness and sustainability. Ultimately, each person helping to organize the HEALth Fair and 5K this year shares the hope that the community will take away a positive message – that healthy eating and active living can be simple and accessible, and can easily be integrated into their daily lives. "If we open someone's eyes to a couple of things that they hadn't thought about before, that's awesome," said Leonard-Morgan.
For additional information about the Middleburg HEALth Fair or to register for the 5K race, visit heal.middleburg.com or call 443-254-5530.