By Heidi Baumstark
Getaways are tempting. Especially when the deal offers two worlds: elegant European style with American rustic charm. In Middleburg's rolling landscape, an Airbnb property called Hunter's Retreat, bids both.

An equestrian couple from Great Falls, Virginia—Natascha Folens and her husband, Luc Dejager—wanted a place where they could ride out with their horses. They found their escape just outside the town of Middleburg, a short drive to all the quaint shops and restaurants the village offers.

On 22 acres, Hunter's Retreat is an historic stone and stucco house with almost 2,500 square feet and over 200 years of history, the oldest part dating to 1790. The property dead ends on Berryman Lane, which is off of Sam Fred Road (State Route 748), east of the town of Middleburg.

The house has been completely renovated by Folens' award-winning design firm, NF Interiors. In 2013, she was ranked as one of the top three interior designers by Virginia Living magazine. This Belgian-born designer brings a distinct look to her work on homes, hospitality and commercial businesses offering interior design, decorating and set-up services. Her work on Hunter's Retreat was featured in Home & Design (July/August 2016) and in Milieu (Winter 2017).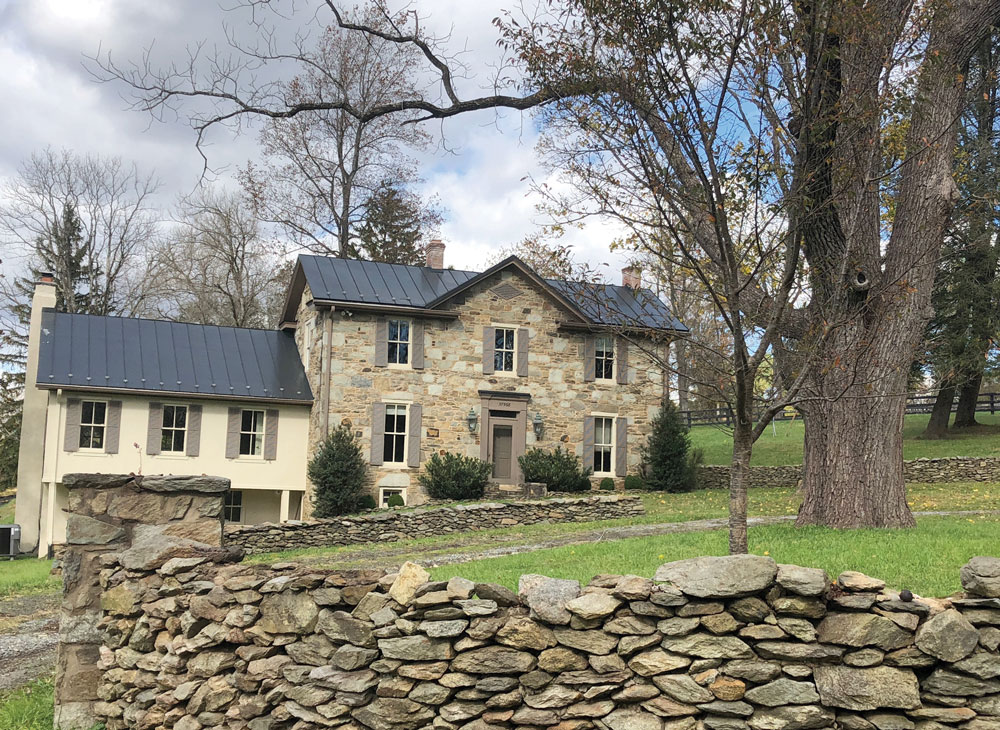 In 2014, the Belgium couple purchased Hunter's Retreat, which includes an old stone spring house. The entire property accommodates eight guests with four bedrooms, four beds, three and a-half baths and is equipped with high-speed Internet. Original heart pine floors, an antler chandelier, a stunning contemporary horse painting, off-white painted walls and deerskin draped over furniture are just some touches that point to the idea of a stylish hunting lodge matching the name
Folens and Dejager have given the house. As an international designer, Folens imports just about everything from Europe reflecting a unique, eclectic vibe like sculptural exposed heat pipes from Belgium and metal lighting with bare bulbs adding an industrial, modern feel.
"We spent a year remodeling and opened for lodging in 2015," Folens said. Inspired by her Belgian roots, she said, "I wanted a country feel with elegance. I wanted to keep the historic rustic parts of the house and respect its story. I like to use textures to bring in warmth."

Though they don't host weddings on site, many of their rentals are for guests attending weddings at nearby Salamander or Goodstone Inn. Folens added, "Since the house is in such a peaceful area, we don't do weddings; we want to be sensitive to our neighbors. But we're for guests who want to stay in a home rather in a hotel."

And with over 200 years of history, there are stories to tell. According to a 2004 document, "Loudoun County African-American Historic Architectural Resources Survey" by History Matters, LLC, during the period of 1790-1830, eight domestic properties in Loudoun were identified. Most of these dwellings were built for whites and later owned or occupied by African Americans. One example is the Raymond and Mattie Berryman House near Mountville, which dead-ends to a narrow trail/stream that flows to Goose Creek. The earliest part of this house may have been constructed as early as circa 1790.

By the mid-1800s, the property was part of the James B. Wilson estate. Circa 1877, the original one-and-a-half-story stone house was expanded with the addition of the front, two-story center-passage; the nearby spring house has the year 1877 inscribed on the exterior.
The 1900 census shows George W. Berryman (1856-1923) as a farmer as his occupation. He is listed as the head of household with Thomas J. (15 years old) and Raymond F. (11 years old) as sons; Thomas is listed as a farm laborer and Raymond was still in school. George was also a founder of the St. Louis Colored Colt Show.

In 1922 after passing through several owners (with surnames as Wilson, Yates, Nichols, DeButts, Gordon), brothers Thomas and Raymond Berryman purchased the 130-acre property and house on Berryman Lane from Charles W. Dawson. According to local informants, theirs was the largest land holding held by African Americans in Loudoun County at that time.

According to local historian and mapmaker Eugene M. Scheel's document titled, "Timeline of Important Events in African-American History in Loudoun County, Virginia" Loudoun's first official road map of 1932 indicates that Berryman Lane was named for the late "farmer and horseman Raymond F. Berryman [1889-1947]."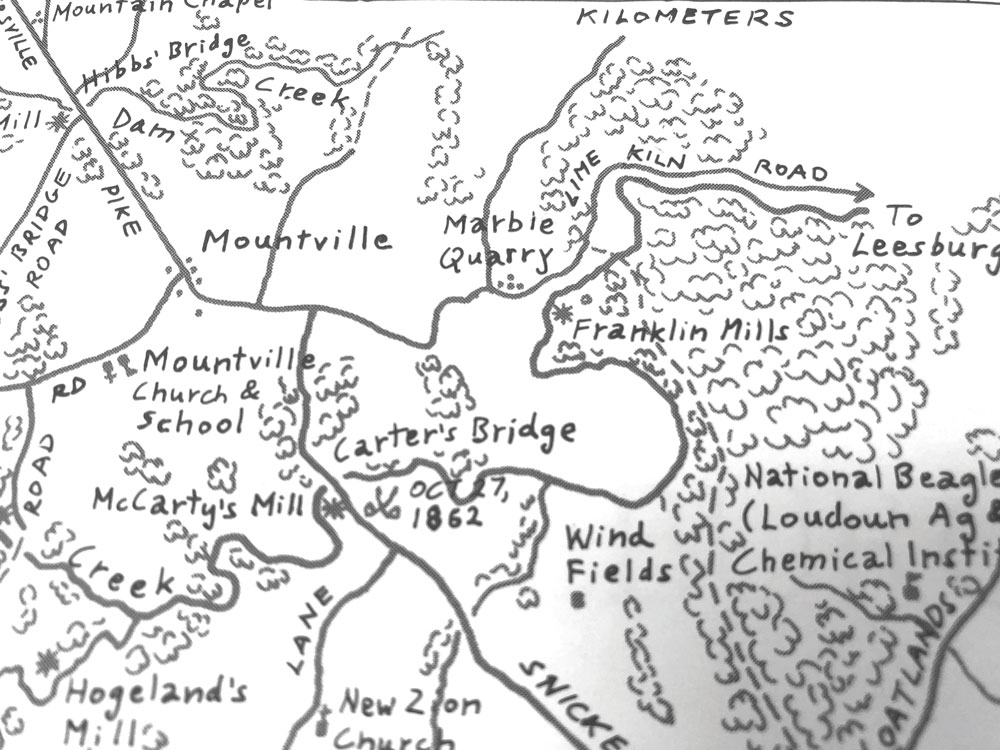 Raymond and his wife, Mattie (McQuay) Berryman (1895-1976), lived in the house and owned it until 1958. They are both buried at Solon Cemetery in Middleburg. The Nov. 6, 1947 Loudoun Times-Mirror includes the obituary of Raymond who was born Dec. 25, 1889. The obituary reads: "Raymond Fisher Berryman, colored, died in his home in the Mountville – Middleburg section October 23 [1947] after a brief illness. Death occurred in the house in which he was born 57 years ago, a son of the late George H. and Kate Hall Berryman. Berryman engaged in farming throughout his lifetime and was a deacon of Zion Baptist Church, Mountville. He was regarded as a good citizen and useful in the community where he lived."

Today, the white steepled church where the Berrymans worshiped has an inscription in marble on the front exterior that reads: "Zion Baptist Church Built 1896 by Rev. Asbury Pinkett[,] Relocated and Named New Zion Baptist Church April 1970 by Rev. Earl King." The church sits on Sam Fred Road just a short walk from Berryman Lane. In a phone interview with Scheel, he confirmed, "The Berrymans went to worship at New Zion Church on the east side of Sam Fred Road; the road was named after Samuel H. Rogers Fred, a wealthy landowner and farmer." Sam Fred Road was previously called McCarty's Mill Road.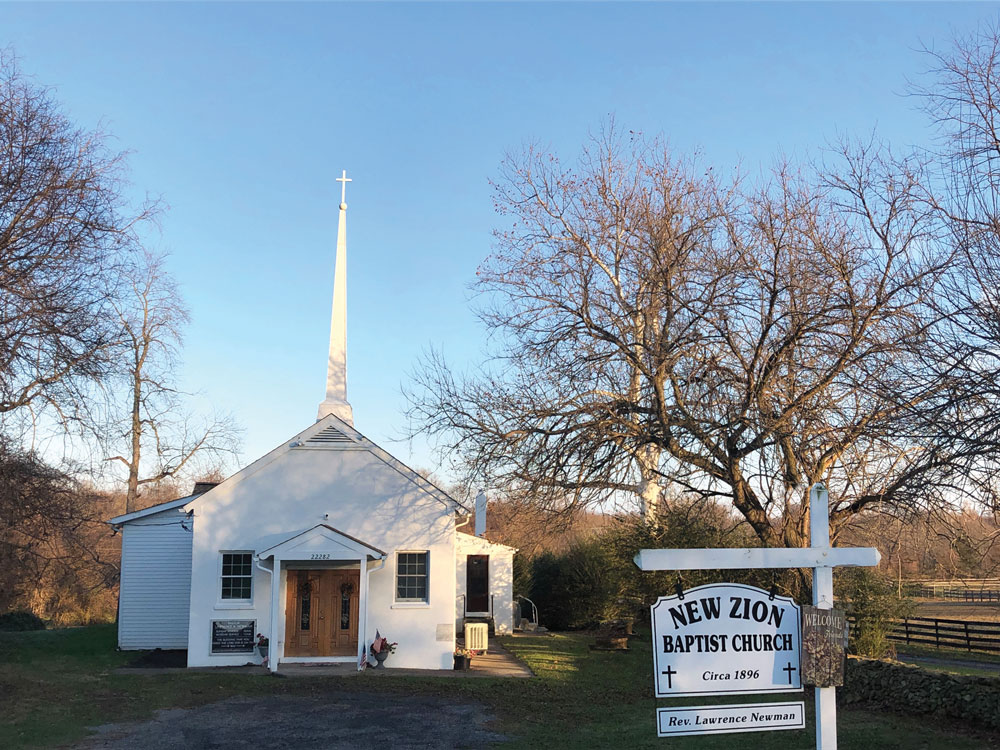 According to the Edwin Washington Project, Mattie Berryman worked as a teacher at Marble Quarry School in the 1940s; previously, she taught at a school in Lincoln, a small village in western Loudoun County, which was established as the community of Goose Creek during the 1750s by Quaker settlers and renamed Lincoln shortly after Abraham Lincoln's 1860 presidential election.

Scheel's book, The History of Middleburg and Vicinity, describes a community called Marble Quarry that was made up of ex-slaves; the quarry had been mined by slaves of the Mount and Carter families. Benjamin F. Carter opened 400 acres of land for the quarrying of marble, and on March 30, 1870, the Virginia Marble Company was chartered and Carter sold the company his 400 acres for $26,666.66, which he received in company stock.

In Scheel's book, Loudoun Discovered Communities, Corners & Crossroads, Volume Three, The Hunt Country and Middleburg, he writes that sometime before 1923, Marble Quarry School moved "two miles south to Sam Fred Road, in an area farmed by the prominent Negro farming family, the Berrymans. Father George [Berryman] had been a founder of the St. Louis Colored Colt Show, and his sons Raymond and Thomas, and daughter Amy, were hard workers, respected by all."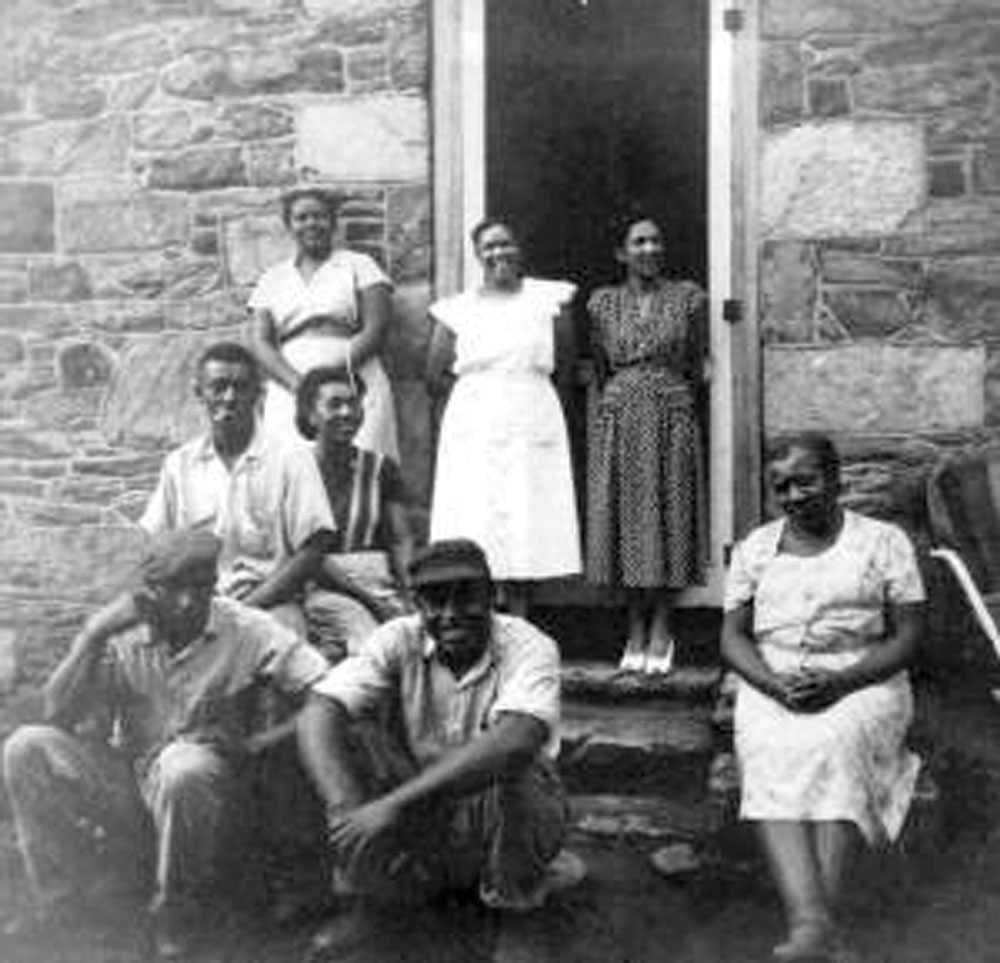 Along with the location of Raymond Berryman's house, Scheel's hand-drawn map shows other nearby places, events and names: Francis Mill, Hogeland's Mill, Carter's Bridge, Delta Farm, Groveton, Mountville School 1862, Mountville Church, New Zion Church and 2nd Marble Quarry. Also shown is a map symbol for a skirmish with the date of "Oct. 30, 1862" near Carter's Bridge and Mountville (currently where Snickersville Turnpike crosses Goose Creek).

This skirmish was a prelude to the Battle of Unison, which was a series of cavalry fights in Loudoun from Oct. 31-Nov. 2, 1862 between J.E.B. Stuart's Confederate army and units of the Union Army. Riding with Stuart was a young scout and staff officer who was seeing Loudoun for the first time: John Singleton Mosby who would become widely known as the "grey ghost" for his daring exploits as a partisan ranger.

Today, Hunter's Retreat attracts an eclectic array of visitors. During last year's annual Middleburg Film Festival, former Spin Doctors guitarist Anthony Krizan, stayed there in October. He said, "The opportunity to stay at this lovely charming retreat was very inspiring as an artist and songwriter. The house has a comforting rustic charm; I'd go there again in a heartbeat!"

Folens added, "This is such a special place; it's so serene but so close to Middleburg. I designed it to have a luxurious feel for people who appreciate nice design." Sounds pretty tempting.

Hunter's Retreat is located at 37568 Berryman Lane in Middleburg. To stay overnight at this Airbnb, visit www.airbnb.com. For information on NF Interiors, visit www.nfinteriors.com or call 703-444-6642. The Facebook page is www.facebook.com/nfinteriors.