Story and photo by Kerry Phelps Dale
Chances are you've been to a party or event that Beth Ann Mascatello has chaired or created. If not, you probably have or know someone who has benefitted from her efforts. Her Midas touch, when it comes to fundraising, has enriched our community in countless ways.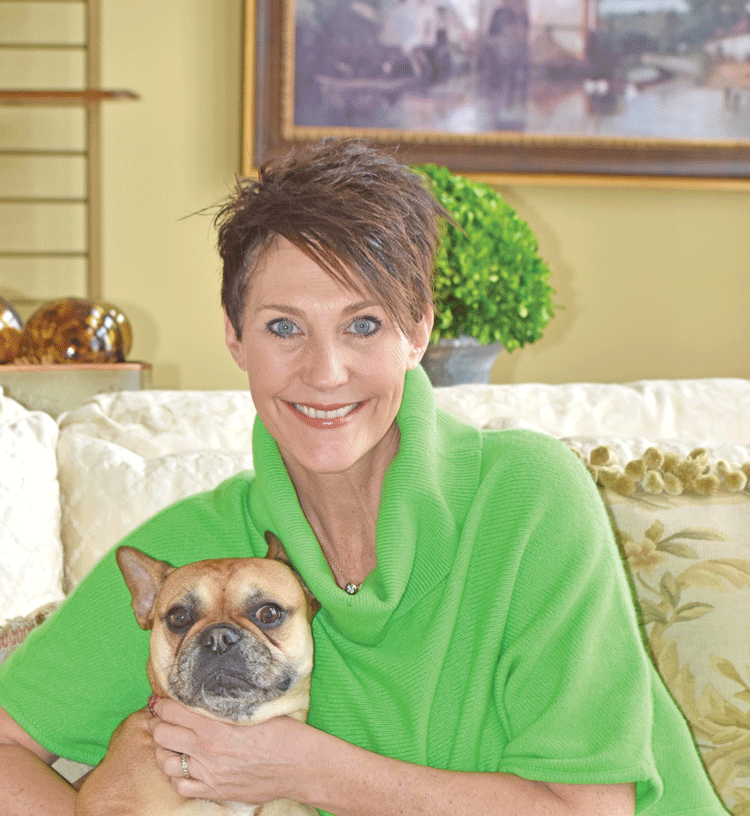 Blue Ridge Speech and Hearing, Middleburg Community Center, The Hill School, Wakefield School and the Windy Hill Foundation, are all recipients of Beth Ann's gifts for bringing people together for a good cause. From fashion shows to school auctions, from teas to galas, Beth Ann has been instrumental in raising hundreds of thousands of dollars for these community organizations.
Beth Ann's love for bringing people together started when she attended Seton Hall University in her home state of Pennsylvania where she crowned herself the head of the much-needed social event calendar at her all-girl school.
During her employment in a placement agency in Washington, DC, she met a sports agent named John, who happened to be looking for a secretary. Beth Ann presented John with two of three candidates, and he chose a candidate who was not her client. Still, their meeting led to another, and Beth Ann declared to a friend, "I met the guy I'm going to marry." And so she did, some 20  months later.
When the newlyweds moved to the Middleburg area some 24 years ago, Beth Ann began channeling her party planning talents into fundraising initiatives when she joined the board of Blue Ridge Speech and Hearing in Leesburg, Virginia. She pitched her fundraising idea for an American Girl Fashion Show, featuring the then wildly-popular historically-themed dolls.
The board was unimpressed with the idea, but gave her the go ahead anyway. "Good Luck with that doll-dressing thing," they told her as she exited the room.
"We blew it out of the water," Beth Ann says of the event that made over $75,000. Every dollar went to children who couldn't afford hearing aids at $5,000 each.
"I came back to the next board meeting and told them, 'that doll-dressing thing just made over $75,000.'"
Thus, the fund-raising doyen was born.
"Raising money for people in need and bringing people together – my two passions," says Beth Ann. "What better way to do both than to have a party?"
Windy Hill Foundation, an affordable housing and services organization, is currently the most notable recipient of board member Beth Ann's golden touch. The annual Fashion Show Luncheon and the more newly-minted Gala have been primarily under Beth Ann's inspiration since 2009, breaking records of money raised year after year. Last year's gala brought in $145,000 for the Education Fund alone, which assisted college-bound students in the Windy Hill Foundation's properties with tuition. In 2016, gala proceeds provided for two 14-passenger mini buses to aid in the seniors' activities, mobility, and transportation for children living in The Plains to attend Middleburg's summer camps.
"We don't just put a roof over their heads," says Beth Ann, "We provide all kinds of services to help them help themselves."
Much of Beth Ann's drive and satisfaction come from the community itself. "People are so giving—so generous with their time, and financially giving of themselves however they can."
When Beth Ann and her husband moved to Middleburg in 1992, they wanted to raise their three children in the community. Brian, their oldest, lives in San Francisco and is an analyst for a small venture capital firm. Their daughter, Olivia, is a Sophomore at High Point University studying Visual Merchandising in the design school. Luke, their youngest, is a Junior at Episcopal High School where he plays soccer, squash and lacrosse.
"There really is no place like Middleburg," said their oldest son Brian, when observing the attendees' heartfelt generosity at last year's Gala.
Beth Ann and her husband are both avid tennis players. It comes as no surprise that she will be taking her party planning finesse to the Middleburg Tennis Club when the long-time member goes on the board in March.
"I'll be on the social committee, of course," she says. ML
SaveSave
SaveSave