Story and photo by Kerry Phelps Dale
Middleburg-based J.R. Snider, Ltd's website states they serve eight counties and 48 towns. Winchester is not on the list. Yet, there at the backyard gate stands Joey Snider, owner and president, to follow up on an unresolved, but not urgent, plumbing dilemma tended to by two of his employees on Friday afternoon. It is Monday morning. Customer service is important to Joey.
Since he was a youngster, he figures 12 or so, Joey was apprenticing as a plumber. His father, owner of E.R. Snider, regularly took him out to some of his customers' farms. He remembers being dropped off in fields of hundreds of acres with his motor bike and instructions to find the leak. The young apprentice would ride around the fields until he found the bubbling leak, mark it with surveyor's tape and return to his father across the farm."I was always in his back pocket," says Joey of the time spent at his Dad's side.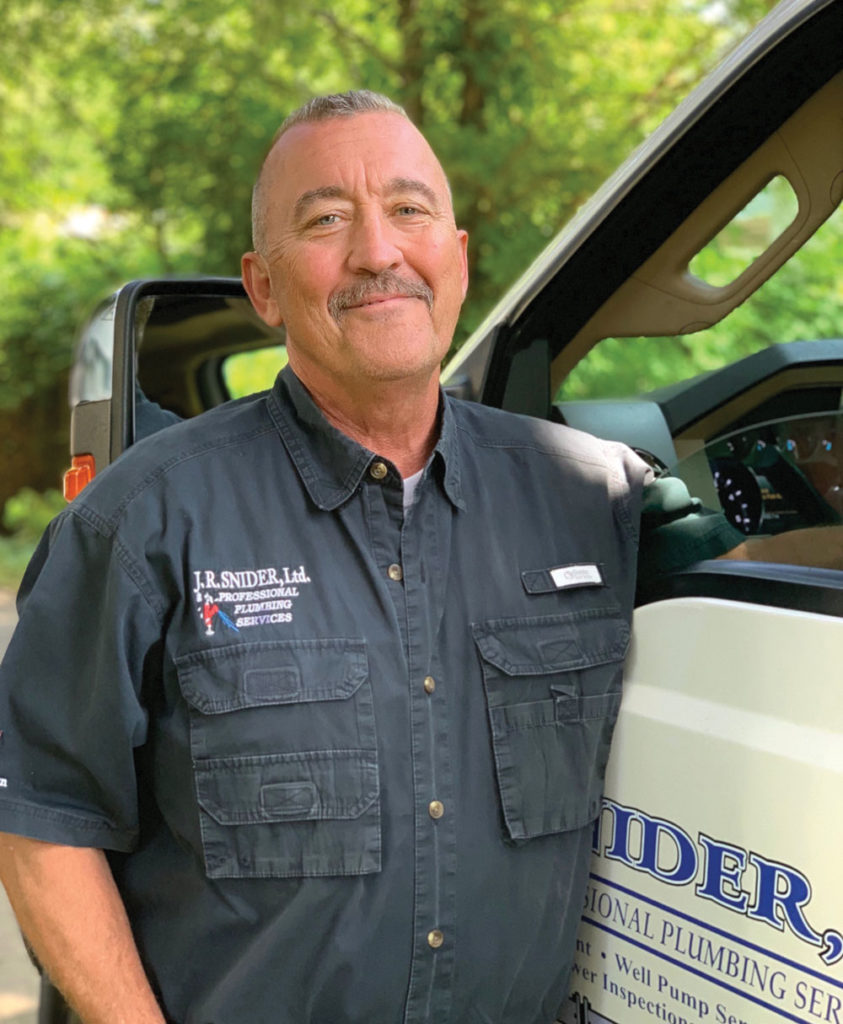 After a stab at school to be a forest ranger, in 1983 Joey decided to join his father and studied for his Master Plumbing and Master Gas Fitter credentials. Upon his father's retirement he and his brother, Bill, bought the plumbing company, renamed it Snider Brothers. They worked together for seven years until Joey took over the business as sole proprietor.
Plumbing and septic issues are most often urgent, and the Snider crew is on call 24 hours a day for emergencies. They've pulled out a number of miscellaneous objects from stopped drains and toilets, some more notable than others. Recently, J.R. Snider received a middle-of-the-night call from Salamander Resort & Spa to retrieve a diamond ring from a toilet. Their camera found and retrieved the "big" diamond for the grateful guest.
"We have recovered earrings, eyeglasses, a perfume bottle and even a mousetrap." That's from household toilets."Once we got the end of a mop from a stopped-up septic system." There are the occasional rabbits and rodents stuck in reservoir pipes and the not uncommon salamander that migrates up into the spring pipes.
J.R. Snider, Ltd. lives by six core values: trust, respect, understanding, credibility, kindness and humor. Snider and his team call themselves Snider's Riders. The owner says these six core values are in the DNA of every Snider's Rider.
Raised in The Plains, the Fauquier High School graduate now calls Hume home. He lives there with his wife, Kristi, who is the office manager for J.R. Snider, and their four dogs, Jessie James, Gracie Lee, Daisy Duke and Franklin Copperfield. Twenty years ago, Joey decided to take up horseback riding and even showed until 10 years ago. When the master plumber is not solving a plumbing problem or on the back of a horse, he might be shooting archery, fly fishing or in the kitchen pursuing his new hobby of cooking.
The father and grandfather sticks close to his roots in Fauquier County and the community of Middleburg where his business is based. He is a member of the Middleburg Professional Association and has served as president of the Middleburg Community Center.
Joey has no exit strategy for retirement at this time. So if you lose something down the drain, your Uncle Fred stops up the toilet, or you have some other plumbing need, Joey or one of Snider's Riders will promptly show up and professionally take care of it.
This article first appeared in the July 2019 issue of Middleburg Life.