Story and photo by Kerry Phelps Dale
Her smile lights up any room she enters, and her voice and laughter fill it. "You can pretty much always hear me before you see me," says Tutti Perricone.
After 26 years of owning and running her own restaurant in Middleburg, Tutti decided to close shop seven years ago and focus on the catering business she had started out of her very small Back Street Café kitchen. The local favorite garnered the hearts of the local community and those in the know continue to come back for more.
Tutti now works out of a spacious, sunlit, stainless steel kitchen at Middleburg Academy just west of town, where she is the lunch lady for the high school and leasee of the kitchen so she can run her catering business. It's an ideal arrangement—provide lunch to the kids, then the kitchen is all hers.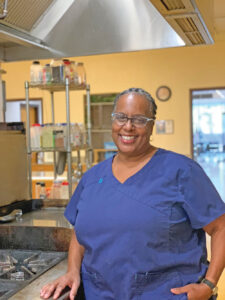 "It's perfect", says Tutti. "It's the best thing. I should have done it 10, no, 20 years ago." "I was there for a long time for a reason," says Tutti about Back Street Café. "I learned what I could do, and what I absolutely did not want to do."
No more worrying about the exorbitant rent, water bill, the ups and downs of the economy or the comings and goings of staff. Tutti has taken her loyal clients, her reputation and built a successful catering business, instead.
"Catering is always where I got the most satisfaction," says Tutti. "I get to be more creative, I have more space, and I love it. I absolutely love it."
Client favorites of Tutti's creations include crab and artichoke dip, tomato basil soup and her famous mushrooms stuffed with maple sausage and smoked gouda. One item, she said that is requested over and over again is her beef tenderloin. "People love the way I cook beef." "People still talk about my Caesar salad, too—I still do the dressing and people come by and pick it up."
One of Tutti's fondest memories is when she catered a sit-down luncheon at Hickory Tree Farm where Prince Andrew was the guest of honor. "I remember that being a very proud moment—I even got a photo with him."
Tutti's laughter ripples through the air for a moment as she recalls, "One night a customer was eating a mixed green salad. I had purchased some organic spring mix. He was chewing and chewing and chewing, and said, 'what is this?'" The man pulled from his mouth a praying mantis that had evidently been processed with the greens to the point of being flat and, well, chewy. "He took it out, looked at it, went 'oh', laid it on the table and kept eating," tells Tutti. "He wasn't even freaked out about it."
Tutti and husband, Vince, live in Marshall, "I love my house. Marshall has great places to eat and I love that area—so close to Warrenton, Manassas and Haymarket."
About her husband of 28 years, "He's a great man. I am so stinking lucky. He is kind. He is considerate," crows Tutti. "He always has my back and has always been supportive of me and what I do." "He accepts me for the loud, crazy black woman that I am," Tutti quips. "He does a lot of the cooking," she adds. "I get home and dinner's ready and I love that."
"I don't necessarily have a lot of free time," says Tutti who enjoys going out to eat, to the movies or just sitting herself down in a recliner and binge watching, say, Orange is the New Black.
Tutti sees retirement somewhere down the road, but there's still plenty of time to hire her for your next party, tenderloin included. Or perhaps you can get on her list to pick up a quart of her famous Caesar salad dressing with anchovies.
And if you are at a party Tutti is catering, you may find yourself chasing a plate of her beloved stuffed mushrooms around the house as her laughter cascades from a nearby room.
This article first appeared in the November 2018 issue of Middleburg Life.