By Beth Rasin | Photos courtesy of Middleburg Garden Club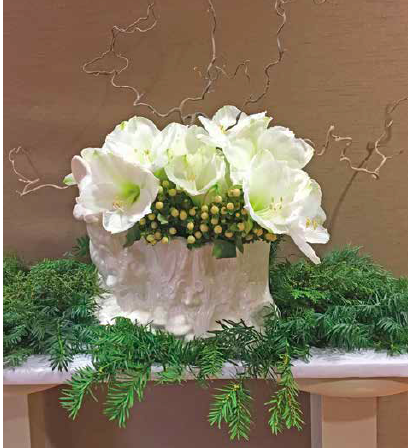 You've seen them in Southern Living. You've admired them on Pinterest. Homes impeccably decorated for the season, with mantles, front doors, trees and more reflecting the holiday traditions with style. But Brooke Myatt has a secret to achieving this effortless holiday look: the Middleburg Garden Club's Christmas Greens Show & Holiday Bazaar.
"It has everything you need to decorate your house for Christmas: topiary trees, wreaths, decorative bows, kissing balls, gorgeous handmade table runners and stockings from designer fabrics, arrangements using sleighs," said Myatt, a member of the club and former "Best in Show" winner. "It is so inspirational to see the beautiful creations that these amazing women come up with every year! I can look on Pinterest for holiday decorating ideas, but between the Greens Show and the Holiday Bazaar, I have everything I need."
The award-winning show will be held at Middleburg's Emmanuel Episcopal Church Parish Hall on Nov. 30-Dec. 1. This year's theme is "A Woodland Christmas," showcasing a variety of holiday floral interpretations and artistic crafts. There will also be individual design and horticulture classes open to entries from the public as well as a youth division.
The Middleburg Garden Club, a member of National Garden Clubs, Inc., and Virginia Federation of Garden Clubs, Inc., has won both Virginia and national awards for the best holiday flower show. This year, however, the 80-year-old club is entering the 21st century with a new online presence, thanks to Myatt.
"Brooke put sales that were door to door on Etsy," said Garden Club President Darcy Justen. "It's kind of cool because a lot of garden clubs are struggling to survive these days. She came up with the idea of a Facebook page, and it's been well received to move onto the internet.
"That's how we're going to sell a lot of things for the bazaar," Justen added. "A lot of our foot traffic last year was Brooke putting up the greens show as an event on Facebook. It's been a paradigm shift for our club—even our members are buying wreaths off Etsy."
She estimates that between the Facebook posts advertising the bazaar and the sales on Etsy, probably 50 percent of their total sales will result from social media or online purchases this year.
"We want to let other garden clubs know, this can be done," said Justen. "You can keep all the traditional stuff and still do social media."
This spring the club hosted the Foxes On The Fence art contest, and the dedicated Facebook page drew half a million followers. "When we did Foxes on the Fence, it was crazy [the number of people who engaged on social media]," said Justen. "It was absolutely phenomenal."
Back at the holiday greens show, Myatt said locals attend, as do members of other garden clubs and even people from further afield. "I love learning about everyone who comes in," she said. "We get people who drive here from Richmond every year to buy the kissing balls we make, which we sell for $40-50. We were sold out one year when they got here on the first day of the bazaar!"
But as much as she appreciates the items she can use in her home, Myatt enjoys the company and experience of her Garden Club fellows.
"The Middleburg Garden Club is such a special group of women; I've learned so much and look forward to learning more," she said, "whether it's asking a member a horticulture question, a presentation by author Marta McDowell on her book 'Beatrix Potter's Gardening Life' or a designer's workshop."
And she now shares the experience with her 10-year-old daughter, Alston Weaver Myatt, who will have her own entry in the Greens Show this year in the youth division, whose theme is "Christmas Whimsy."
"I am excited to enter the Greens Show because flower design brings out the artist in me," said Alston Weaver. "I'm really happy that both of us are entering the Greens Show because it's something we both enjoy, and I love it when we help each other."
The bazaar also sells homemade jams, jellies, rum cakes, and much more. "With our two wonderful members, Louise Crane and Linda Taylor, running the event this year, it is guaranteed to be extraordinary," said Myatt. "It's like opening the holiday issue of Southern Living magazine, everything you could need to decorate your house and entertain from their pages."
Admission to the show is free. Proceeds from the sales help support the Middleburg Garden Club's charitable beautification and community projects including the Middleburg Community Charter School and Boulder Crest Retreat. ML