By Michelle Baker and Laura Pizana
Photos by Randy Litzinger
Megan McSweeney-Troyer of Immersion Design is not afraid of getting a little dirt on her hands. "I called it 'Immersion' because I get immersed in my sawdust bubble." Like other artists, Troyer's dream is to see her work in boutique and high-end hotels, as well as in bars and restaurants. However, unlike others, she invites clients to touch, sit on, and even place their work on her pieces. Look around town, her artwork may be the piece you set your drink on.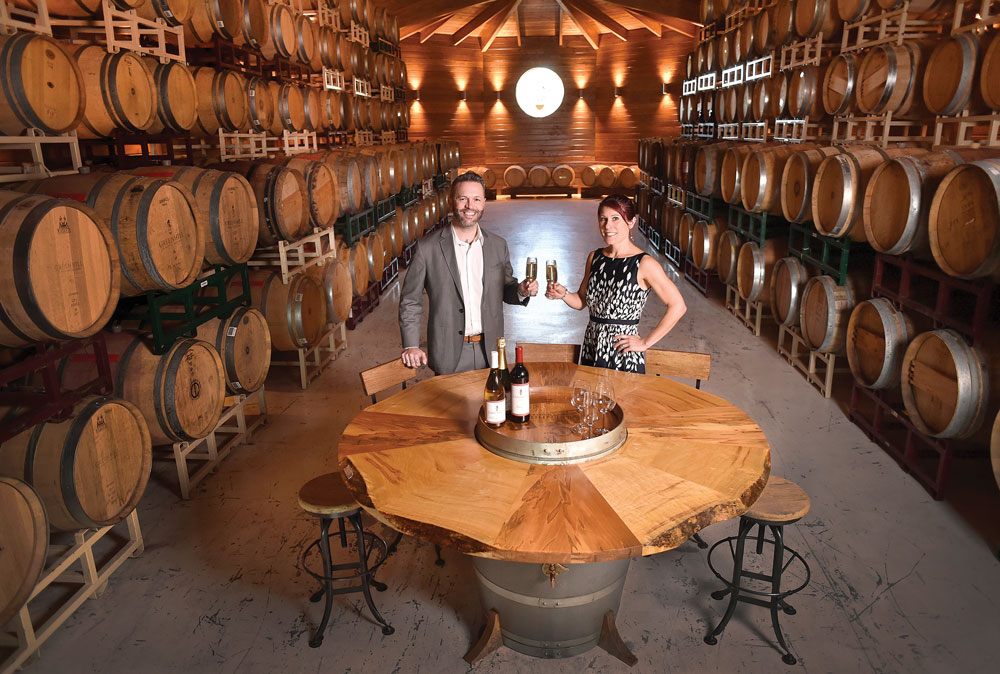 The Immersion Design studio isn't on a city side street. It is a behemoth metal building in her backyard. Planers, routers and sanders make up her tool box in her Aldie, Virginia workshop. When she says she works with jigsaws, she does not mean jigsaw puzzles. Often her projects resemble giant puzzle pieces lying on the shop table. Troyer is a powerhouse woman who works with power tools.
How long does it take to accumulate a barn full of equipment?

"I started in high school. I would ask for like a router for Christmas or a drill or some bits things like that, and overtime started building it up. Pretty much anything I made that I didn't need to live on, I would [use to] buy more tools," she explained. "I worked for a company that was based in Ashburn, Virginia for a little while. When they went out of business, I was able to buy a lot of their machinery at a pretty good price, so that helped out a lot."

At the age of 15, in a wood shop class in high school, Troyer began designing and building furniture. While watching her grandfather work in his clock mechanics and wood shop as a kid, she found a love for moving parts and art. "This is my passion. I've had my own company for about 12 years… a little over 12 years but I started around 20 years ago," said Troyer.

The New Jersey born girl spent much of her childhood in New Fairfield, Connecticut, surrounded by nature in a small town. This was where she took her first formal class. Following graduation, she wanted to study furniture design. "I had a great mentor-teacher who told me I could actually go to school for it, make a career out of it," she explained.

Troyer holds a degree in Furniture Design from Savannah College of Art and Design. "They have a great program where you learn things from basic cabinetry, wood bending, welding – anything you could dream of… they teach you, and from there I started interning at the high-end cabinet shop up here and learned that side of it as well as the art process."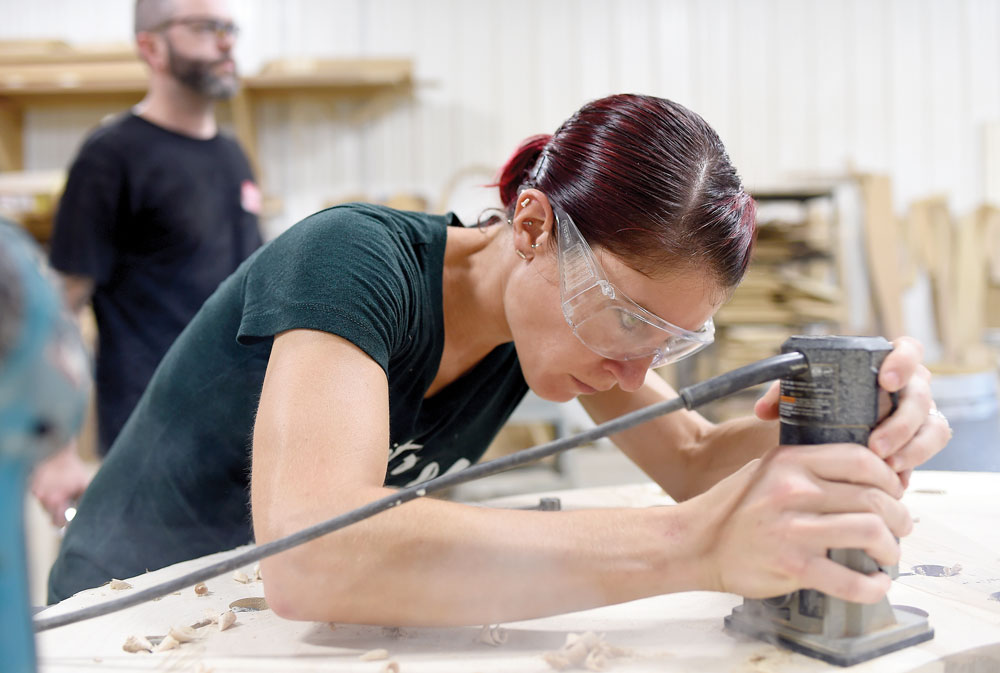 "When I graduated, I worked for them and started my business at the same time." Today, Troyer does work for homes and businesses, anything from build-ins to custom stand-alone pieces. She and her husband, Ruben Troyer, live in Aldie with their young daughter. "I build some accessories and artwork, but I also do a lot of larger pieces, like slab dining room tables."

"There are certain basic principles that carry through (on projects), like certain types of joinery, finishing and things like sanding, making templates, routing out things, but each project is also so different. "Everything I do is different from the prior one, in some way. I learned something new with every single project, which is pretty fun," she said. "I do anything from bentwood or using resin that you can use to make patterns. That it's very interesting; sometimes I include lighting and things, like if you open a cabinet and a light comes on inside."

A recent project in Alexandria was doing a special trim out for a barn door in her bedroom, but she needed it to have privacy, which a barn door doesn't really provide. "I had to problem solve that and build some trim and case work for that."

While she works solo for the most part, Troyer does collaborate with others like her friend and neighbor, Ryan Danger. The two worked on his wine table together last fall. Troyer and Danger created a one-of-a-kind wine barrel table. He is a barrel club member at Greenhill Winery and Vineyards and wanted to turn his barrel stamped with his name into a table for his home. The two friends have collaborated on a bench and a few other small pieces in the past. The table was much larger and more complex than previous projects. It took hundreds of evening hours in the workshop before the final finish was on.

"We did the Chevrolet bench, and then we did some furniture for my art studio, and then we did an easel for the live painting for Ducati at the IMS show," said Danger who has done work for Ducati. His work on one sexy custom Ducati Monster was the magazine cover for the November 2011 Sportbikes Inc.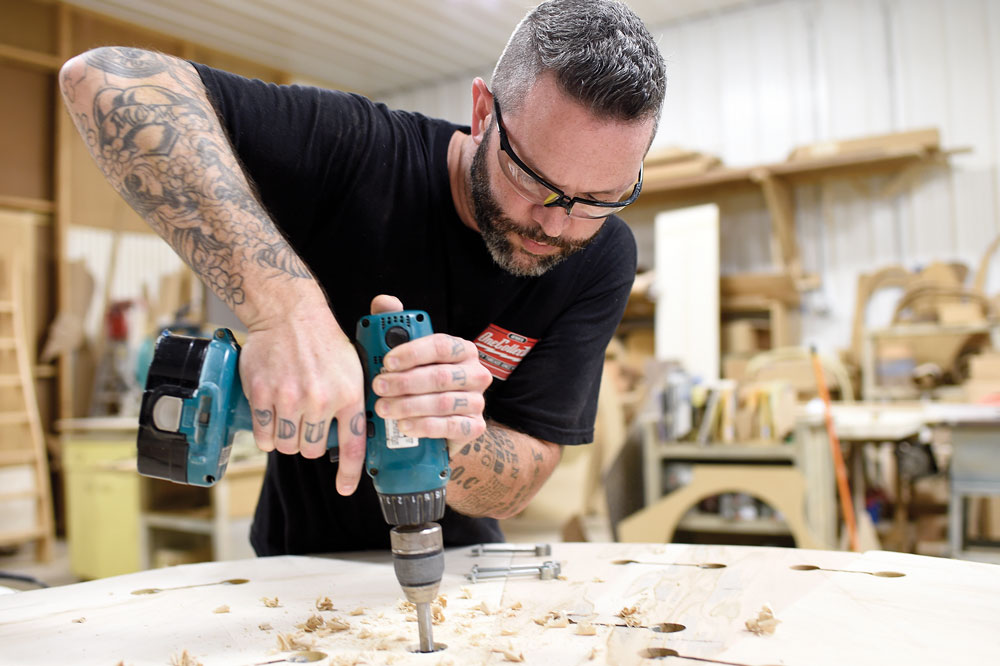 The barrel originally came from France and then was brought over to Greenhill Winery where Danger had his signature logo put on it. "It just kind of occurred to me when I was getting ready to get it when Rebekah told me 'Hey, your barrel's coming out there, getting ready to bottle your wine.'" he said. "I was like, 'I want to make this into a table.'" However, the barrel had a lot of damage to the metal due to being moved, rolled and stored.
"So I sanded off everything in anticipation, but I knew the rust would come with the moisture in the air, so I like it. It's got that kind of weathered look," he said. "I let her do all the math," said Danger who drew up the plans. The table now sits in his kitchen, right next to a motorcycle that's in there.

"And I have a gas pump in the kitchen as well," he added. "I know that sounds crazy. I have a lot of automobile collectibles in my house." The weathered look matched his newly remodeled kitchen, which features whitewashing on surfaces and grey and white tones.

The table was built in two halves, which needed to be glued. Surface connectors were added underneath the surface along the bottom of the table. "They help tighten the joints along with biscuits that you put glue on," Troyer explained. A 37-inch surface sander was used several times to flatten it.

"We had to put it through in sections," she said. "After each glue on, we'd go back and run that section through, 'cause not only does it sand it. It's got two wide belts in there, and so it keeps it level. It will actually take off any uneven material that's cuffed or bowed at all, so it really flattens at the rest of the way, as well as sands it down," she explained.

All the wood was from a company in Berryville that takes trees from all around the area that have fallen or need someone to cut down. "This is maple that came in one big slab. We wanted to keep the live edge, so it was one straight board," Troyer explained. "We decided to cut it into pieces to keep as much of the live-edge as possible from the outside of the tree."

"This is maple but it's ambrosia maple where beetles have actually crawled through and made a pattern, so we love that it has the grey because the wine barrel is grey." The marks are called ghosting. They come from beetles eating their way through the tree.

Pointing to another part, Troyer explained, "These are all from one tree, and this is from another." Danger's design mimicked the spoke of a motorcycle wheel. The pair decided to combine a raw edge with a smooth edge around the table top. Troyer used a router and jigsaw and made a template, so they knew how to make the top fit over the wine barrel. She made a larger template for the outside. "What you do with that is take this router here; it has a really large bit on it, so this double ball bearing will follow the template piece right here" explained Troyer. "And this will go right along the template and make a perfect circular cut all the way around."

Joining the two halves had to be one of the last things. They joined it and then did a final sand with an orbital sander. "This is my mentor. Now I'm the student, she's the teacher. She taught me about the biscuits. I had no idea what they did, but it's really a cool concept. They just slide into the slots in the wood and when the glue hits it, it expands as it dries and makes a solid bond. Then you reinforce it with the metal clamps."

The biscuits made out of wood

"They're made out of wood. Then, this here basically has a little saw blade in it which cuts the shape and thickness of the biscuit, so you would put it against the wood and then push in," explained Troyer patiently. "That's why I was saying the sander will flatten anything out, so we actually had to go back and redo the biscuits to make them even. Then, the table received a labor-intensive hand-rubbed finish because it had so many joints and possibilities for movement, so a sprayed lacquer finish wouldn't have worked. A hand-rubbed finish soaks into the wood and won't become cloudy or broken if the wood shifts over time.

Although the process was a bit tedious and dangerous, the pair agreed it was fun working alongside each other again. Women woodworking shops could be in coming to Aldie one day. Troyer is already teaching her young daughter who has her own safety goggles and ear protectors about working with tools and playing in the sawdust.

"I am interested in that, but so far I've actually just been just teaching friends as they come to me with a project. I would love to do that. My friend actually was telling me I should teach a class on how to build furniture and get in shape at the same time. Ryan is one of them, I helped my neighbors do a cool bar in their basement."

To learn more about her work, visit www.immersiondesign.com. She is also on Facebook.
This article first appeared in the March 2019 issue of Middleburg Life.